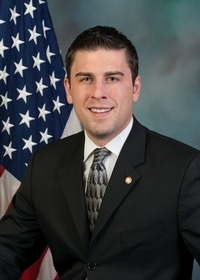 State Representative Justin Simmons (R-Lehigh) is strongly considering a run for Lieutenant Governor in 2018.  
Simmons told the Allentown Morning Call that he will make his decision soon.  
"In nutshell, yes.  It's something my family and I have been speaking about," Simmons said.  
Simmons was first elected to the House in 2010 as part of the tea party wave that year.  He has been a vocal advocate of privatizing the liquor system, shrinking the size of the legislature, and making the legislature part-time.  
Simmons made headlines last year when he ran for and won re-election, breaking his original promise in 2010 to only run for three terms.  
Former Revenue Secretary Dan Meuser is also considering a run for the office.  Former state Representative Gordon Denlinger (R-Lancaster) is also rumored to be considering a run.