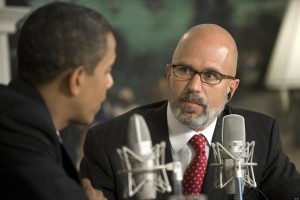 Philadelphia talk radio host Michael Smerconish is coming to TV…again.
The CNN and Sirius XM host's latest book, a novel titled "Talk", is being optioned by Warner Bros into a TV series.
"Like anyone who's ever written a novel, as I wrote it I envisioned it on the screen. Of course in most cases that doesn't come to pass and now this looks like it will, and I couldn't be more excited," Smerconish told Politico. "I think the story lends itself to TV beautifully. In the world of 'House of Cards' and 'Alpha House,' I can definitely see 'Talk' on a television screen."
"Talk" tracks the trials and tribulations of a conservative talk radio host in battleground Florida in the midst of a presidential election.
"The conflict is whether he stays true to himself or lets his star rise," Smerconish said. "It's very bawdy, but I wrote it with a social message."
The show has not yet been assigned to a particular network.