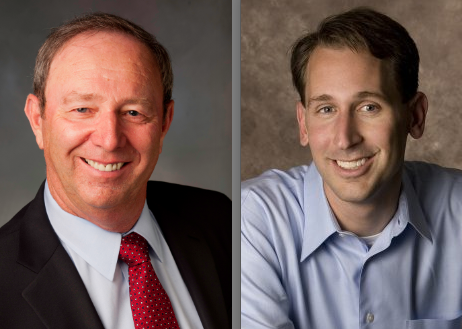 Two of the GOP candidates trying to unseat Bob Casey today accused each other of voting for him. Tom Smith today asked rival Steve Welch whether he voted for Casey in the 2006 general. Welch responded by asking Smith whether he voted for Casey in the 2002 or 2006 Democratic primaries.
The newest charge comes from Smith, who notes Welch's rationale for leaving the GOP in 2005 makes it seem unlikely that he voted for Rick Santorum for Senate.
"Steve, you've admitted to voting for, donating to, and raising money for ultra-liberal Joe Sestak in 2006 because of your dissatisfaction with incumbent Republicans at the time," said Smith.  "After leaving the Party, voting for Joe Sestak, and criticizing the administration, how are voters to believe you in fact split the ticket and voted for Senator Santorum over Bob Casey?"
Welch has cited No Child Left Behind and the Medicare Part D in the past GOP missteps that led him to leave the party in frustration – both of which Santorum supported.
Welch's camp fired back immediately, releasing this video (that they'd already had in production) about Smith's 42 years as a registered Democrat, and the 19 times he's voted in a Democratic primary – including twice when Casey was on the ballot.
http://youtu.be/VmETep_SfCw
"Steve Welch never voted for Bob Casey in a primary or a general," said campaign manager Peter Towey. "Tom Smith still hasn't told us if he voted for Bob Casey or Ed Rendell in 2002, or if he voted for Bob Casey in the 2006 primary or general. Tom Smith has been a lifelong Democrat who has voted in 19 primaries with options like Al Gore, Bill Bradley, Howard Dean, Jack Murtha, Joe Hoeffel, Arlen Specter and Joe Sestak. It is time for Tom Smith needs to tell us which ultra-liberal candidates he has supported in the past."
While it's unlikely Smith voted for Casey in the 2006 general election – he and his wife gave $5,000 to Santorum that cycle, including some before the primary – he has yet to name a single Democrat he's supported in the 19 primaries in which he's voted.
Asked whether he voted for Casey or one of his more liberal opponents (Ed Rendell in 2002, Chuck Pennacchio or Alan Sandalls in 2006), Smith's campaign repeated what they'd been saying all along: he doesn't remember.
Welch's camp released a web video on Thursday that teased Smith for his rather convenient memory loss. Smith also said he doesn't recall whether he voted for Arlen Specter or Joe Sestak in the 2010 Senate primary, and sent this edited photo of Smith's campaign bus around to reporters: