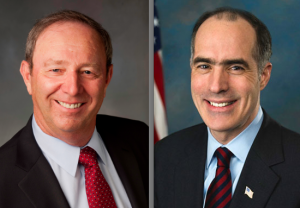 Tom Smith and Bob Casey are neck and neck, according to the latest internal survey from the Republican Senate hopeful's pollster.
Each candidate takes 46 percent of the vote, a 2 point improvement for Smith from his Oct. 11 poll showing Casey ahead 46 percent to 44.
The pollster, John McLaughlin, interviewed 400 likely Pa. voters on Nov. 1. The margin of error is plus or minus 4.9 percent.
"With just 4 days until the election, Tom Smith has the momentum in the race for United States Senate. The majority of voters are either voting for challenger Tom Smith, or still do not want to vote for Bob Casey. This is a very bad sign for the incumbent this late in the race and it appears Bob Casey is entering the final stretch of his career in the United States Senate," he wrote.
The poll showed Smith's favorables at 44 percent positive, 38 percent negative. Casey was at 45 percent positive and 43 percent negative.
As with any internal poll, take this with a grain of salt. Campaigns have about 6 more hours to make news in any race. After that, it's all about getting out the vote. Releasing a poll like this is probably an effort to cement the narrative that this is a tight race (and ensure outside ad buyers that Pa. is worth their investment).
Casey Campaign Manager Larry Smar noted the timing of the release as well as its variance from some independent polls.
"If the independent polls show you down around 10 points, I guess the answer is to buy a fake internal poll and release it at 4:30pm on a Friday," Smar said. "A one-night poll with a 5 percent margin of error? Smith has really worked the GOP pollsters, but they are really stretching now."