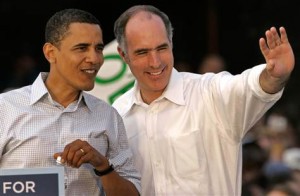 Barack Obama gave Bob Casey the kind of praise on Tuesday that would have given a Democratic candidate heartburn in 2010. Among other accolades the President said Casey, "has always had my back". Naturally, Tom Smith jumped on the comment. But is Obama, who polls ahead in PA, really a liability for Casey?
Namely, how does it hurt the Senator to tie him to a man that's favored to win the Keystone State?
The remarks came at a campaign event in Philadelphia which Casey attended. The freshman Senator has frequently joined the President during PA events.
The President commended him, saying:
"You've got somebody here who is one of my dear friends, one of my favorite people. Who has always had my back and he and I share a lot in common. We both pretend to play basketball even though we're way too old. We both married up, and we both have extraordinary daughters. He happens also to be one of the best members of the senate that we have, Bob Casey's in the house."
Casey is a long-time Obama supporter; he endorsed him in the competitive 2008 Democratic primary when most of the state's establishment went for Hillary Clinton. There are countless pictures of the two of them together: all potential fodder for attacks ads.
They're allies in DC, too. As the Smith campaign noted in a press release about the video above, Casey has voted with the President an overwhelming majority of the time: 97 percent in 2009, 98 percent in 2010, and 93 percent in 2011. He's voted for each of the President's major legislative initiatives: the stimulus, cash for clunkers, Dodd-Frank, the health care law, and more.
So from a practical standpoint, it's tough to imagine Casey successfully finding distance from the President. When asked, he often notes his strong stance against illicit Chinese trade practices. And he voted for cloture on the controversial Blunt amendment, supported by Catholic institutions during the contraception debate. But most of his voting record lines up with Obama.
Is that such a bad thing for Casey, re-election-wise? In general, Democratic turnout is better during presidential years – particularly in vote-heavy Philadelphia. And most polls of PA show Obama with a decent lead over Mitt Romney: 46 to 40 in Q-Pac; 48 to 36 in F&M; 47 to 41 in Rasmussen in the past three weeks.
The answer is: maybe. Though Obama is doing relatively well in PA polls, and Casey is ahead by an even wider margin (Casey lead Smith 51 to 32, 42 to 21 and 48 to 41 in each of those polls, respectively).
But a closer look at the numbers shows some reasons Smith is still talking about Obama well after the primary. First is rallying the base. That Quinnipiac poll showed that 38 percent of GOPers approve of Casey's job performance, 29 percent say he deserves re-election, and 19 percent plan to vote for him. Smith needs to bring those Republicans into his camp.
Furthermore, in several regions where Casey is strong (southwest, northwest and central PA), President Obama is weak. So the Casey-Obama angle has its merits.
In any case, there's more to the attack than the President by himself.
In 2006, challenging Sen. Rick Santorum, Casey gave his future opponent a gift: this quote, from an appearance on Meet the Press.
"When you have two politicians in Washington that agree 98 percent of the time, one of them is not really necessary. We could have a machine have that kind of votes. We need someone who's going to be truly independent, who has the character and integrity to stand up to his party and his president."
Calling one's opponent a hypocrite is a salient attack regardless of other factors.
Indeed, asked how effective their Obama-Casey strategy would be in the general election, Smith's camp went right there.
"Senator Casey would like voters to believe he is an independent voice, but the public record and the President himself agree, Casey has been a rubber-stamp for Obama's failed policies," said Communications Director Megan Piwowar. "On one point we agree with Senator Casey, when you have two politicians who agree 98% of the time, one of them needs to go."
How did Casey's team respond? Via PA Dems spokesman Mark Nicastre, who hammered Smith for his ties to the Tea Party (he founded one in 2009).
"Tom Smith has said he would go to Washington to push Tea Party values and policies," said Nicastre. "Smith has backed their push to end Medicare as we know it, which will raise costs for seniors. Smith also would privatize Social Security and eliminate the Department of Education – two policies backed by the Tea Party."
How close the pro-Casey argument will echo the pro-Obama argument remains to be seen, but the case against Smith hews pretty close to Dems' case against other Republicans.
Pat McAteer contributed to this report.