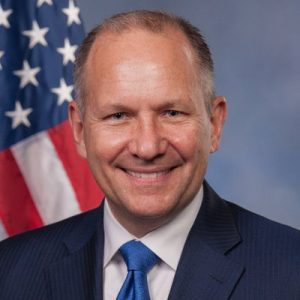 Congressman Lloyd Smucker has been in office just over 5 months, after winning a contentious election last fall for his first term in office.  The former state Senator sat down with PoliticsPA to discuss his time in office so far.  
The topic fresh on everyone's mind was the firing of FBI Director James Comey, and what led to his dismissal.  
"I don't question whether that was the right decision or not at this point, but I do think the timing of the decision does raise some questions with my constituents.  I have questions myself about that.  I hope there is more full explanation forthcoming from the administration in regards to what led to that decision," Smucker said in the interview.  
Smucker did not join calls from Democrats and some Republicans for an independent investigation into Russian involvement in the election.  
"I think what we need is a full and thorough investigation of what we know was Russian meddling in the election and we need to take investigation wherever that may lead.  We have an ongoing investigation currently that the FBI is conducting so I feel it is important that the FBI continues that work and it needs to be a fair and thorough investigation.  At the same time we have investigations going on within Congress right now."
Smucker was elected in 2016 to replace retiring Congressman Joe Pitts.  Democrats historically have done little more than to make noise in the district.  In 2016 Democrats made a soft play for the seat. Whether it was a head fake or part of a push for a 'Clinton wave,' we won't know.  But Smucker defeated political newcomer Christina Hartman by 11 points.  It stung, but it was closer than Democrats came in the PA-6 or PA-7, and only two points off their performance in PA-8.  The Democratic Congressional Campaign Committee has already listed Smucker as a target for 2018.  If 2018 turns into an anti-Trump wave election, Democrats will likely keep PA-16 on their  list.  
Hartman, who is considering a run in 2018, was not surprised by Smucker's position on an independent investigation.  
"He is being purposely vague.  He is using politician speak to avoid taking a position," Hartman told PoliticsPA.  
Smucker has been targeted by both the Democratic Congressional Campaign Committee and the Pennsylvania Democratic Party for his vote in favor of the American Health Care Act (AHCA).  
Governor Tom Wolf estimated the bill would result in $2 billion less in annual federal funding for Pennsylvania's Medicaid program – a deficit Smucker's former Senate colleagues would have to grapple with.
"This is an issue with a lot of intensity, because it affects everybody," Smucker said.  
"It shouldn't come as a surprise to anyone that I voted for that bill, it is what I said I would do.  We are keeping our promises to build a system that works for everyone."
Hartman agreed that Sucker's vote was not a surprise.  
"Unfortunately he is just doing what the Party wants him to do and hoping for the best.  It is consistent with what he did in Harrisburg," Hartman said.  
Smucker would like to see the Trump fill more of the positions on his cabinet and in senior roles in his administration.  
"We need to see more of those positions filled.  In some areas it has been a slower start than we would have liked."
Like most Congressional Republicans, Smucker has been pushed to hold an in-person town hall. He hasn't done such an event since taking office and said he doesn't currently have plans to hold one.
On Thursday, protesters gathered outside his Lancaster office calling for an in-person town hall.  According to Lancaster Online, several dozen protesters made their way into the building and staged a sit-in.  
https://twitter.com/HStaufferLNP/status/862722363628105728
Smucker argued that while he hasn't done an in-person town hall, he has done five tele-town halls, and has had 6-8,000 constituents on each one.  
"I am happy to do a town hall when I think it is productive.  I am always looking for ways to interact and reach out to hear from constituents," Smucker said. "I have done town halls when I was in the state Senate, and I enjoy doing them.  And at some point when I believe it is productive I would say it is likely we will do them again, but we don't have any plans to do them currently."