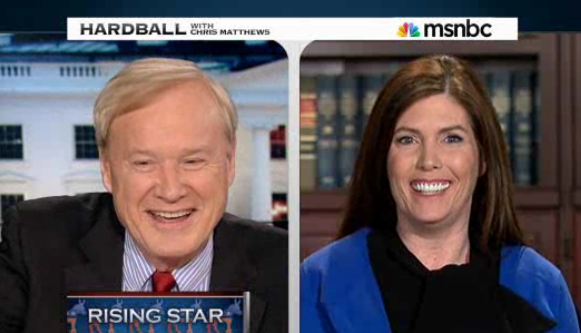 MSNBC host Chris Matthews has a special claim about Attorney General Kathleen Kane. Back in November 2011, before most people had heard of her let alone imagined she's become Pennsylvania's first Democrat and first woman AG, Matthews gave her her first bit of national TV exposure.
At the time it seemed some Kane folks had called in a favor from the Hardball team.
15 months later, Kane is a Democratic party star who's earned her place on national lists of politicos to watch. And Republicans in Pa., like Gov. Tom Corbett and Sen. Pat Toomey, are watching her closely.
Her homecoming with Matthews Tuesday night was a love fest. It started with Matthews showing her campaign ad.
"I hear nothing but good things about you and the reason we're asking you to come on tonight and you've agreed is I'm looking at people in the country who are in public life right now in public service who I can see a couple of notches from now really being national figures," Matthews gushed.
The normally bullish Matthews offered Kane the chance to talk about GOP proposals to tinker with Pa.'s electoral college allocation, the voter ID law and gun control.
As PAGOP spokeswoman Valerie Caras noted, the soft segment came in contrast to a recent press event in Harrisburg. Then, Kane declined to answer reporters' questions about her rejection of Gov. Corbett's plan to privatize the management of the lottery.
Here's the full video:
Visit NBCNews.com for breaking news, world news, and news about the economy