According to several individuals who were at Brickhaus last night, Senator Lisa Boscola (D-Northampton) was asked to leave the popular Harrisburg bar after an alleged confrontation.
Boscola confirmed her removal from the bar with the Philadelphia Inquirer.
In an interview Wednesday, Boscola acknowledged she was asked to leave the bar, but said she did not strike anyone.

"When you hit somebody there is a physical act of `stay away from me,'" she said of the woman. "Unless she was in my face. I do not know what her motivation is. I need to figure that out. Because in this business, it could be misinterpreted. I want to give her the benefit of the doubt as well. No one wants to hurt anyone in this business. Especially a woman. You know what I'm saying."
This was posted on Facebook, and later removed, by the individual with whom Boscola allegedly had an interaction.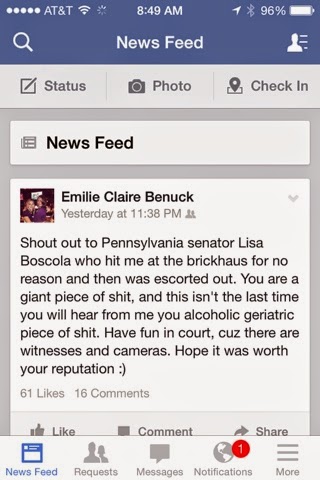 Update: According to the Inquirer article, she also had a contentious dispute with Speaker Sam Smith over a House bill. Smith released the following statement this morning:
"Given that other people have experienced similar encounters with the senator, I hope she gets whatever help she needs for her problems. Her statement is a clear indication of her own denial of the situation and I feel sorry for her."
Boscola also updated her remarks from yesterday afternoon.
"There are differing perceptions of the heated conversation," Boscola said in her statement, which was issued following numerous media calls to her office. "I had an animated discussion with members of the General Assembly and Republican House leadership about issues under discussion in both the Senate and House. The conversation was both frank and passionate as I made my positions known.

"Admittedly, the tone and level of discussion may have been uncomfortable for those engaged and others nearby," Boscola said. "As a result, I was asked to leave, and I complied without incident."