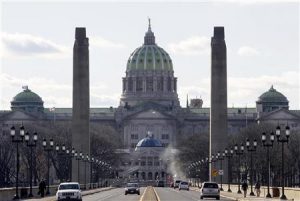 State lawmakers and Governor Tom Wolf agreed on a $32 billion budget agreement Thursday evening, despite concerns on how to fund the budget, in order to make progress before the fiscal year ends Friday.
Gov. Wolf supports the spending bill, according to the Pittsburgh Post-Gazette, although it is unclear if he will sign it without a revenue package.
The Wolf called the bill "a bipartisan compromise that invests more in our schools, protects seniors, creates jobs, and builds on our fight to end the heroin epidemic."
The plan increases public education by $100 million, increases spending for services for the intellectually disabled and pays into the commonwealth's pension obligation, according to an article from State House Sound Bites.
Some cuts to Medicaid and consolidation of agencies were also written in the plan, along with some significant mergers.
The Board of Probations and Parole is merging with the Department of Corrections. The departments of Health and Human Services are also merging, although, as Wolf wanted, the departments of of Aging and Drugs and Alcohol are not.
"I'm pleased with what the product that will be leaving the Senate tomorrow looks like," Minority Leader Jay Costa (D-Allegheny) told the Post-Gazette.  
Costa supported approving the spending bill despite not having a way to pay for it.
"It's making certain that we pass the budget on time, to be able to allow government to continue as we figure the revenue side of the equation. Ideally, I'd like to have it all done by now, but that hasn't happened," he told the Post-Gazette.
Senate Appropriations Chair, Republican Pat Browne R-Lehigh), told State House Sound Bites that it will take a while to work out the details.
"What we've done so far is significant, but our members, our committee chairs want to take a really thorough review to make sure it's done right," Browne said.
The budget will not be balanced without a revenue package which will likely not be done this week.
Spokeswoman for Senate Majority Leader Jake Corman, R-Centre Jennifer Kocher told the Post-Gazette senators will finish work on the revenue package next week.
The Senate passed the spending plan this morning, and sent it over to the House.  The bill passed 43-7.
Update: The House passed the spending plan by a vote of 173-27.  The bill moves to Governor Wolf for his signature.