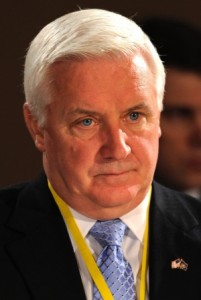 A majority of registered voters give Gov. Tom Corbett poor job approval marks according to the latest survey from Susquehanna Polling & Research.
The Republican polling firm found 58% of respondents disapprove Corbett's job performance (including 45% who strongly disapprove). 33% approve the job he's doing as Governor.
That's a 12 point drop from SP&R's February poll where Corbett was down 52% to 39%.
He's in positive territory with Republicans, 55% to 32%. Democrats disapprove 80% to 16%.
President Barack Obama also got negative marks. 51% disapprove his job performance while 45% approve. SP&R's February poll gave The President a slightly positive rating, 49% to 48%.
The exclusive poll was conducted for SP&R subscribers and obtained by PoliticsPA. The pollster surveyed 702 registered voters from Sept. 24-26 via landlines and cell phones. The margin of error is plus or minus 3.7%. 47% of respondents identified as Democrats, 41% as Republicans.*
29% of respondents named jobs and the economy the most important problem
facing Pa., followed by education/schools (16%) and healthcare (15%).As lawmakers in Washington continue to fall short of a compromise to end the government shutdown, the poll found voters in Pa. support efforts to defund or delay the Affordable Care Act. 52% of respondents said Obamacare should be "defunded while 41% said the law's "implementation continue on schedule".
Independent voters favored repeal/defunding 51% to 34%.
SP&R's polling during the 2012 cycle generally favored Republicans. It was the only pollster to show Mitt Romney ahead of Obama in Pennsylvania.
*Editor's note: The partisan breakdown of this poll received a few questions online.If SP&R was polling registered voters, why didn't the results match the state's party registration (50% Dem, 37% GOP)?
It's apparently because SP&R added another simple layer to filter the electorate: respondents' participation in past elections. They only included respondents with an active recent voting history.
That's not the same as a "likely" voter, per se, because pollsters often incorporate some kind of more advanced turnout model to determine who constitutes a likely voter. Those turnout models do consider voting history, but also include other details like estimates of income ethnicity. They often directly ask respondents how likely they think they are to vote.
In 2012, SP&R's turnout models differed from other pollsters in a way that artificially inflated the GOP's chances in Pa. More on that here. But virtually all pollsters agree that recent voting history is a worthy and non-partisan indicator.
Here's the full explanation from the SP&R memo:
Completed interviews were conducted September 24-26, 2013 with 702 registered voters in Pennsylvania who have prior vote history in 2 of 4 or better in G12, G11, G10 and/or G09, as well as new registered voters since 2011. Interviews are randomly selected and conducted via telephone using the professionally-trained survey research staff (live agents) from the Harrisburg telephone call center of Susquehanna Polling and Research. Interviews are closely monitored to ensure a representative sample of Pennsylvania's electorate is achieved based on party, geography, gender, age and other demographics; results are sometimes statistically weighted.