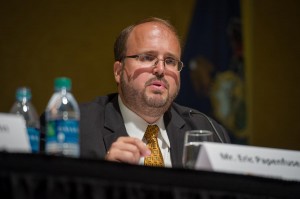 A new survey from GOP polling firm Susquehanna Polling and Research (SPR) shows Democratic candidate Eric Papenfuse as the frontrunner in the campaign for Harrisburg mayor.
According to the survey of likely voters in Harrisburg, 42 percent said that they would support Papenfuse, 25 percent chose Dan Miller and another 6 percent voiced their support for write in candidate Aaron Johnson.
While this seems like a sizeable lead for Papenfuse, another 23 percent of voters remain undecided. The poll sampled 300 likely voters in Harrisburg, and also covered some of the campaign issues.
When asked what issues would affect their vote, 36 percent said the candidate's position on financial recovery and 23 percent said crime. Voters opinion on the recovery plans may be bolstering Papenfuse's popularity; 62 percent said the support the current recovery plan while just 18 percent favored bankruptcy. Republican nominee, actually Democrat, Dan Miller has supported the bankruptcy.
However, Miller and Johnson ought not to lose hope in this race. SPR has been wrong in Harrisburg mayor's races before. In 2009, they predicted that incumbent Mayor Steve Reed would steamroll over Democratic challenger Linda Thompson by a comfortable margin of 15 points.
Thompson defeated Reed by more than 1,000 votes.
Their later analysis showed that they undervalued the power of Thompson's Get Out The Vote (GOTV) efforts. She was able to mobilize unlikely voters and increase the overall turnout of the race, which worked in her favor.
With such a small sample size and the usage of likely voters, this poll is not a death sentence for Miller or Johnson who are likely both working on serious GOTV efforts.
City political observers have noted that Johnson, the city's deputy director of public works, may be the beneficiary of last-minute support among the city's African American community.