Vic Stabile threw the first punch of the Superior Court race Monday, accusing Democrat Jack McVay of using his position as an Allegheny County family court judge to get jobs for his girlfriend and sister-in-law.
McVay's camp said the ad violates a pledge both men signed with the Pa. Bar Association.
"After he became a judge, he got his girlfriend a job. Then his sister-in-law got a job. And now Jack McVay wants you to give him a promotion," a narrator charges.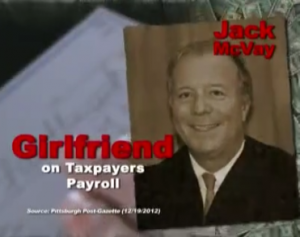 The Pittsburgh Post-Gazette in 2012 reported McVay's sister-in-law's position and editorialized against McVay's fiancee's hire.
The ad switches to positive, introducing Stabile and boasting of his endorsement by the Pa. Fraternal Order of Police.
"And I won't put my family on the court payroll," Stabile says into the camera, his only line in the ad.
McVay's campaign fired back, calling the ad a move of desperation by Stabile.
"If he's going negative and willing to violate his pledge, it must mean he sees himself behind," McVay campaign manager, Marty Marks told PoliticsPA. "We're running a positive effort and it's going to stay that way."
Stabile lost the 2011 Superior Court race thanks in large part to a strong western Pa. performance by opponent David Wecht, also a Pittsburgher.
Marks defended the hire of McVay's sister-in-law, saying she brought years of professional child welfare experience to the job. He noted that the decision to hire McVay's fiancee was made by another judge, and that both hires complied with court rules.
Stabile and McVay each signed a pledge by the Pa. Bar Association, agreeing to certain guidelines for campaigning.
It's not clear whether Stabile violated the pledge, which is open to interpretation.
"Canon 7 does not specifically proscribe 'negative advertising,'" the Ethics Committee of the Pa. Conference of State Trial Judges wrote in an advisory – one of the criteria for the pledge. But, they continue, "While in some limited circumstances negative advertising may be appropriate,given the nature of political ads; the committee strongly discourages negative ads."
Additionally, the ad may have impugned the judiciary – another no-no according to the pledge – with its insinuation that McVay was doing something improper when he "lived off your tax dollars" while serving as a judge.
PoliticsPA is seeking a response from Stabile.
The ad was produced by Parknavy Advertising in western PA and is scheduled to run through election day. PoliticsPA is seeking details on the ad buy. As it is a split positive and negative ad, it is likely the only commercial that he will run during this race.
According to an FCC filing, Stabile is spending $38,000 to air the ad on WTAE. The Pittsburgh market appears to be the key battleground of the race; both candidates are on the air there. McVay also launched an ad – all positive – in the Pittsburgh market on Monday.
The Pa. Superior Court race is the only statewide contest in Pa. on November 5. The position mostly deals with appeals cases from county Courts of Common Pleas.
Stabile is an attorney from Carlisle. McVay is a Judge on the Allegheny Court of Common Pleas.