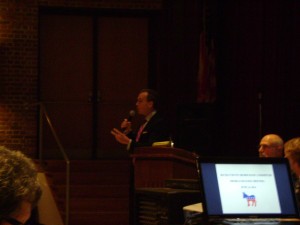 Lieutenant Governor nominee Mike Stack declined to endorse a candidate for party chair but made clear he feels the issue will be resolved and the Democrats are in great shape.
In the interim between the primary and the state committee meetings, the county parties are holding their own nominating conventions. This morning, the Bucks County Democrats held their own ritual gathering at a Southampton middle school and Stack was their special guest.
Stack's Speech
The State Senator and new Lt. Gov nominee was the first to speak to the assembled crowd. Already referring to the "Wolf-Stack ticket" he spoke of how well they both ran in Bucks County (Wolf received 52% while Stack racked up 66%). After mentioning Governor Tom Corbett, he predicted they won't be using that title much longer.
Stack commented that he flew into the event from Pittsburgh on a 5:45 flight. He also emphasized the chances the Democrats have to take back the State Senate where he could potentially be the tie-breaking vote if Wolf were to prevail and the party picked up two seats.
"Do you guys think you can help the State Senate go Democrat?," Stack asked to an enthusiastic affirmation.
"We're gonna have to pull together and be united and Bucks County is gonna help lead the way," he concluded.
Stack on McGinty and Burn
The Lt. Gubernatorial candidate refused to endorse either candidate for state party chair yet made clear he hopes, and expects, the struggle to be over soon.
"I think it will all work out," he told PoliticsPA. "There's been some transitional pain but Jim's a good guy, Katie's a great lady and by next week we'll have a united Democratic party."
So does that mean he doesn't anticipate a fight in Camp Hill next weekend?
"You know there was some miscommunication in the transitory stage but we're gonna come together. I don't want and I don't think they'll be a fight. All the leaders; Wolf, Burn, McGinty and Stack, are interested in unity and I think the party's is at it's strongest place in awhile."
Unity-wise or poll-wise?
"I think both unity-wise and poll-wise," he concluded.
Misc.
Meanwhile, at the committee meeting new Executive Director Eric Nagy gave a powerpoint run-down of how he plans to further build the party. The highlight was his reveal that they have bought space in the property next to the Bucks County GOP headquarters in Doylestown.
"They just got new neighbors," Nagy said to laughs and thunderous applause.
All the committee office nominations went off without a hitch as Chairman John Cordisco and his colleagues were unanimously re-elected.
Finally, former Democratic congressional candidate Shaughnessy Naughton introduced her primary opponent and PA-8 nominee Kevin Strouse in a show of party unity.
Strouse gave a short speech to end the morning, praising Naughton and going after Fitzpatrick.
"What happens if Mike Fitzpatrick wins this election?," he asked. "Nothing".
Strouse asserted that Fitzpatrick has done nothing and will continue to do nothing and that he will change that if elected.
Finally, Chairman Cordisco ended the meeting by leading the assembled in a chant of their slogan for the day, "Turn Bucks Blue."