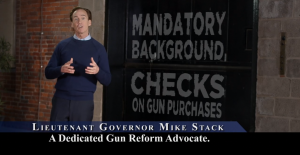 Incumbent Lieutenant Governor Mike Stack launched two new TV ads, one highlighting his F grade from the NRA, and the other touting his support for veterans.
"I was trained to fire rifles in the National Guard, but that didn't stop the NRA from giving me an F," Stack says in the ad 'F Grade.'
Stack goes on to voice his support for mandatory background checks, and banning assault weapons and bump stocks.  
The second ad, titled 'On Duty,' touts Stack's service in the National Guard and his work for veterans while in office.  
"Before he was Lieutenant Governor, he was Captain Stack.  Now he's a dedicated advocate for veterans and their families," the ad's narrator says.  
The two ads will run on TV in Philadelphia this week, and spread to other markets next week.  
"Lieutenant Governor Mike Stack is the only veteran on the Democratic ballot for Lieutenant Governor and we believe that experience uniquely prepares him to serve and sets him apart from his opponents who have no experience in either the military or state government," Stack's campaign manager Marty Marks said.  
Philadelphia Deputy Mayor Nina Ahmad, Chester County Commissioner Kathi Cozzone, Braddock Mayor John Fetterman, and Montgomery County businessman Ray Sosa are running against Stack in the primary.  
You can view the ads below.  
'F Grade'
'On Duty'