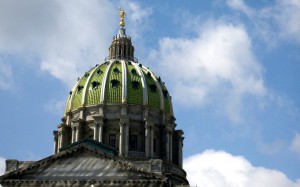 We've now reached that (less than magical) time from November to January when the parties must choose between acting after the election results are in or waiting until the new guard arrives.
According to Mark Levy of the Associated Press, PA House and Senate Republicans, already amidst post-election caucus changes, face various obstacles to passing legislation in the lame duck period.
Two weeks exists between when the legislature convenes and Wolf takes office on Jan. 20. Despite a lack of precedent, the GOP majorities in both chambers could theoretically use this time to propose and pass statutes supported by outgoing Gov. Tom Corbett but opposed by incoming Gov-elect Tom Wolf.
While legally viable, several stumbling blocks could impede passing legislation in such a short period of time, including the now apparent divide between moderate and conservative Republicans.
Conservatives won that round, ousting Senate Majority Leader Dominic Pileggi (R-Chester) in favor of Sen. Jake Corman (R-Centre).
Still Speaker-elect Mike Turzai admitted he has only just started making preparations for the upcoming legislative session, but assuredly stated, "we will hit the ground running."
Republican-affiliated lobbyists have increasingly promoted action before Wolf takes office. One of whom being Tom Smith, 2012 challenger to U.S. Senator Bob Casey's seat, coal magnate and fervent supporter of conservative causes.
"I have talked to people about it and I've been called about it by people who will have a vote on it," Smith continued, "whether that happens or not, I don't know."
Senate President Pro Tempore Joseph Scarnati (R-Jefferson) was similar in his speculation, stating, "In the coming days and weeks, I think we'll get more clarity," referencing upcoming strategic talks between chief state Republicans.