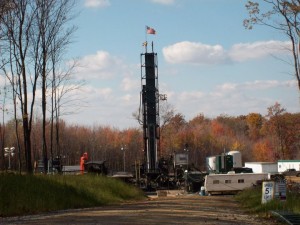 The Pennsylvania Democratic Party is officially split over the issue of using hydraulic fracturing to drill for natural gas. This much is clear from a letter, signed by eight Democratic State Senators, to PA Democratic Party Chairman Jim Burn.
This missive from the Senate concerns a resolution that was passed by the state party's committee last June that called for a moratorium on drilling for natural gas in the Marcellus Shale. The vote followed years of party infighting over whether to call for a moratorium. The resolution passed the committee by a vote of 115 to 81.
The Marcellus Shale is a large bedrock with deep natural gas reserves that spans several states and covers most of Pennsylvania.
The letter was signed by several party leaders from across the state, including Democratic Appropriations Chairman Vincent Hughes (D-Phila), Democratic Whip Anthony Williams (D-Phila), and Caucus Chairman Richard Kasunic (D-Fayette).
"The recent vote of 115 to 81 by the Democratic Party of Pennsylvania to support a moratorium on hydraulic fracturing in the Commonwealth has left us a bit dumfounded [sic] as to why members of the Democratic State Committee would base such a strong stance on myth and misperception," the Senators wrote in their letter to Chairman Burn.
The Senators also attempted to assure opponents that drilling methods would be safe and pose no danger to the environment.
"It has always been the industry's priority to develop this invaluable natural resource safely, to proceed with caution, and minimize risk to people, animals and the environment," they wrote. "Best practices, a modernized statutory and regulatory framework, and consistent improvement in technologies offer reliable assurances that Pennsylvania will continue to lead the way in safety and production."
This note from state Senators is remarkably similar to another letter that was sent to Chairman Burn by eighteen members of the PA House Democratic caucus.
When asked to comment, Chairman Burn tried to deflect the controversy onto Gov. Corbett.
"This is a contentious issue. 115 members of the state committee voted in June in favor of the resolution, and we will continue to hear input from all sides. One thing is for certain, these actions are a direct result of Gov. Tom Corbett looking out for his donors instead of the people of Pennsylvania and failing to protect our resources in order to [give] tax breaks to his friends and donors while getting free trips and gifts from them."
Several other state Democrats, however, have backed away from the resolution. Three Democratic candidates for Governor, including two former Environmental Protection Secretaries, have opposed a moratorium.
The issue of "fracking", the term used to describe the method of extracting the natural gas, has become a major focus of environmental groups which assert that fracking pollutes water supplies. These groups were galvanized by PA native and filmmaker Josh Fox's documentary "Gasland", which was nominated for an Academy Award in 2011.
Natural gas drilling has nevertheless retained the support of most of the party's elected officials both in PA and nationwide. For these officeholders, natural gas is an expanding industry that can supply needed jobs and allow the country to transition off from oil, which is heavily imported from other countries.
As mentioned in both letters to Chairman Burn, among the supporters of natural gas drilling is President Obama, who reiterated his support as recently as this June in a speech on climate change.
"We're also producing more cleaner-burning natural gas than any other country on Earth. And, again, sometimes there are disputes about natural gas, but let me say this: We should strengthen our position as the top natural gas producer because, in the medium term at least, it not only can provide safe, cheap power, but it can also help reduce our carbon emissions," the President said.
While the President also pledged to make sure that the drilling would be safer and cleaner, he made clear which side of the issue he is on. "The bottom line is natural gas is creating jobs."
As long as natural gas remains a contentious issue in the Democratic party, Pennsylvania is likely to remain the central battleground.