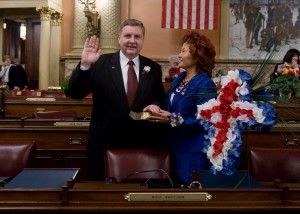 By Elyse Clonan, Contributing Writer
State Rep. Rick Saccone of Alleghney/Washington has announced the introduction of House Bill 2160, which proposes to impose term limits on members of the General Assembly.
"Term limits have been and will remain a major priority of my reform agenda," said Saccone, a freshman.
House Bill 2160 would limit elected Representatives to the Pennsylvania General Assembly to a combined total of 12 years in office, including combined House and Senate service.
Correction: Due to a typo, the original version of this story cited a 21 year term limit, rather than 12.
"This legislation…will help to ensure that Pennsylvania's legislature is always refreshed.." Saccone said in a press release issued Wednesday.  "Out founders intended for public service in any legislative body to be temporary, limited, and never a permanent career.  House Bill 2160 will ensure that these great intentions are finally realized."