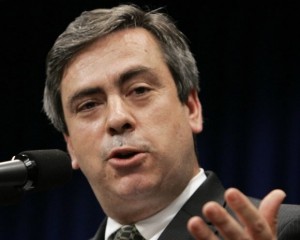 Over the weekend, State Senator Pat Browne (R-Allentown) crashed his motorcycle on I-78.
Turns out he was driving while intoxicated.
According to Steve Esack of the Morning Call, Sen. Browne will be charged with drunken driving and driving at unsafe speeds.
As Esack points out, this is not the first time Browne has been caught driving drunk. In fact, it's not even the first time the State Senator's been found driving a motorcycle while under the influence.
In 1995, Browne was arrested for a DUI in New Jersey. Four years later, he was charged with drunken driving while on his motorcycle.
The State Senator suffered serious injuries in the crash, including a punctured lung, and is still hospitalized.
Update: Senator Browne has released the following statement:
"I sincerely apologize to my family, colleagues and constituents for the choices that I made last Saturday, and I am extremely grateful that no one else was hurt. I am deeply passionate about my legislative work and humbled to represent the 16th Senatorial District.
"Thank you to the many individuals who have reached out to me since my motorcycle accident last Saturday.  I have received outstanding medical care for my physical injuries from the accident and I am currently recuperating in an area physical therapy facility.
"It is no secret that I have battled issues relating to alcohol in the past. Every day requires me to vigilantly control my disease, and I am dedicated to seeking help to regain a solid grasp of my illness."