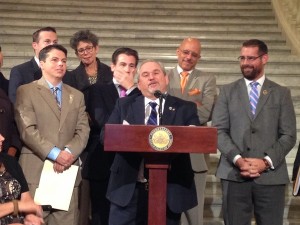 A number of state lawmakers gathered for a press conference in support of a bill to outlaw hate crimes against LGBT individuals.
According to WITF's Mary Wilson, State Senator Jim Ferlo (D-Allegheny) surprised attendees when he revealed that he is gay and gave a concise and compelling case for the protections that would come from S.B. 42.
Sen. Ferlo described how he has been open about his life for decades but never felt the need to publicly announce it until now.
"I'm gay. Get over it. I love it. It's a great life," he said to applause.
"I think the more that people learn and respect and experience diversity, I think the better off we are as a society," Sen. Ferlo concluded. "And I think we need to be nurturing and provide opportunities for young people to be culturally accepting of their feelings and for everybody to feel a major part, an integral part, of the human family."
Ferlo is the first openly gay State Senator, and the third legislator, in Pennsylvania history. He is currently serving his final term and is set to retire.