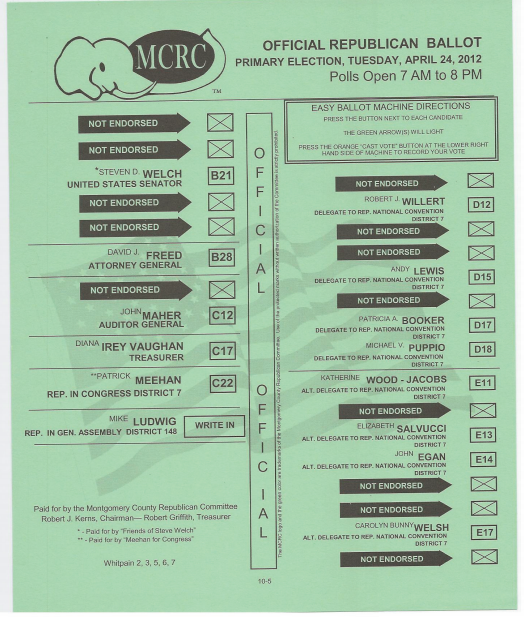 PoliticsPA will be covering election news and returns all Tuesday and late into the night to bring you the latest. This thread will feature the presidential, U.S. Senate, Attorney General and Auditor General.
80% of statewide precincts reporting:
Tom Smith will be the GOP nominee for U.S. Senate
Statement from Sen. Casey: "I am thankful for the strong support I received from across the Commonwealth to run again as the Democratic nominee.  In the Senate I have stood up for Pennsylvania and for working families.  I am running for reelection to continue to serve as an independent fighter for the people of Pennsylvania.  We face many challenges: we need to put more Pennsylvanians back to work and unfair foreign trade is allowing countries like China to cheat.
"There will be a clear contrast in November between who has stood up for Pennsylvania working families and who has proposed more unaffordable tax cuts for the wealthiest Americans, between who has fought against trade deals that will ship Pennsylvania jobs overseas and who supports the flawed trade policies of the past, between who will protect and strengthen Medicare and Social Security and who wants to dismantle these vital promises."
Kathleen Kane 53%
Patrick Murphy 46%
John Maher will be the GOP nominee for Auditor General.
The CPA for PA Auditor General, John Maher said "Today, voters declared loud and clear Pennsylvania deserves an Auditor as Auditor General."
8:55pm: Kathleen Kane is winning by 90 votes in Allegheny County with 13% of the vote in.
8:45pm: With 8% of the precincts reporting in the City of Philadelphia, Patrick Murphy is getting 63% of the vote. He will need to run up numbers there to do well statewide.
6:30pm: Here's a copy of the Montco GOP's sample ballot. These green 1-pagers are gospel to many Republican faithful and one of the top benefits of a PAGOP endorsement. Will they do the trick for Steve Welch, especially given that all observers say turnout is low?
3:30: Dave Freed doesn't have an Attorney General primary opponent, but he does have a day job. His campaign sent out a release boasting that he had busted criminals on election day. Here's the coverage on ABC 27.
This morning in Camp Hill, PA, Cumberland County District Attorney and candidate for Pennsylvania Attorney General, David Freed, announced the seizure of nearly 2,700 marijuana plants and more than 150 pounds of packaged pot – the largest drug-growing ring in county history.

Freed spent Election Day much like every other day – locking up drug dealers.
3:06pm: Marissa Pinto Burt on Frank Pinto's Auditor campaign: "We are excited by the turnout of our supporters. Our poll volunteers from all across the state are sharing great feedback. We believe the people of this great state are sick of the status quo and ready for a new, independent voice and are therefore coming out to vote for Frank Pinto!"
2:20pm: One GOP operative working on a statewide race said he predicts GOP turnout will fall about 10 or 15 percent below 2008 levels, across the state.
1:55pm: David Christian for Senate sent a thank you email to his supporters:
Today is election day. Today is about solutions to those struggles. This has been a long and hard fought campaign and I'd like to take a moment to thank you for your support. Elections are about choices. My opponents are all good men.  Unfortunately, not all good men can win elections. I'm running because I believe that I'm the best man to take on and beat Bob Casey. I've fought for this country and I'm tough enough to withstand anything that the Bob Casey's of the world can throw at me. I'm running because I can defeat Bob Casey and work to put this nation back on the right path.
1:40pm: Nat Binns, the spokesman for the Patrick Murphy campaign says that Murphy's daughter, Maggie is whipping votes in the 8th ward in Philly at Warwick Hotel.
1:20pm: To nobody's surprise, the Kane campaign says they are seeing low turnout across the state.
12:45pm: Sen. Casey looks to cash in on the GOP primary. From a fundraising email his campaign just sent out:
I know Bob has what it takes to win in November.  But thanks to the Citizens United ruling, special interest groups can anonymously give unlimited sums of money to influence this election.  They're already airing attack ads in this race, and you better believe they're going to come after us in the general election.

…

No matter who the other side nominates, we already know what to expect. While Bob has worked hard to reach across the aisle, find common ground and deliver results for Pennsylvanians, his opponents have fallen lock step behind a divisive, extreme right-wing agenda – one that almost shut our government down in order to secure tax breaks for the wealthiest Americans, one that would end Medicare as we know it and ship good Pennsylvania jobs overseas.
12:40pm: On the Presidential front, Rep. Tim Murphy endorsed Mitt Romney today. From the Romney release:
"President Obama's energy policy can be summed up in one word: 'No,'" said Congressman Tim Murphy. "No Keystone pipeline, no drilling for oil and natural gas and no to coal. Mitt Romney understands that energy equals jobs, and will advance a true 'all-of-the-above' energy plan. Not only does that matter here in Southwestern Pennsylvania, it is critical for our nation's economy to get back on track. That's why I am proud to stand with Mitt Romney and encourage Pennsylvanians to support Mitt today on Pennsylvania primary day."
12:30pm: Checking in with the Smith & Welch camps
"We're encouraged by everything we see," says CM Jim Conroy. "Our volunteers are out in force working hard to turn out the vote for Tom."
Re: possible weather issues, they report sunny skies.
"We are making calls, knocking doors and finishing strong," says Welch CM Peter Towey.
12:10pm: Here are Eugene Depasquale's plans
State Representative Eugene DePasquale, the Democratic candidate for Pennsylvania Auditor General, will be voting at approximately 9:00 AM on Tuesday, April 24 at the Lincolnway Fire Company, 300 E. Berlin Road in York.
DePasquale will monitor the results from home before arriving at the Democratic Party of York County's Election Night Party at the Roosevelt Tavern, 50 North Penn Street in York, at approximately 9:45 PM.
DePasquale will be available to speak to the media at both points tomorrow, and by request in-between those times.
WHAT: State Representative Eugene DePasquale Casting His Vote
WHEN: Tuesday, April 24 at approximately 9:00 AM
WHERE: Lincolnway Fire Company, 300 E. Berlin Road, York, PA
WHAT: State Representative Eugene DePasquale Attending Democratic Party of York County's Election Night Party
WHEN: Tuesday, April 24 at approximately 9:45 PM.
WHERE: Roosevelt Tavern, 50 North Penn Street in York, PA
9:25am: We have John Maher for Auditor's e-day plans:
John Maher casts his ballot and greets voters
7:00AM
Boyce Middle School
1500 Boyce Road
Upper St. Clair, PA 15241
John Maher Hosts Election Night Celebration
7:30PM
Crowne Plaza, Pittsburgh South
Washington Room
164 Fort Couch Road
Pittsburgh, PA  15241
8:55am: Clinton cuts robocall for Kane. Kathleen Kane for AG scored a major endorsement from former President Bill Clinton, and he's helping her to get out the vote today. He cut a 30 second robocall on her behalf (listen here): "She'd be the first woman ever elected Attorney General in Pennsylvania, and also one of the very finest you ever had," he says.
7:00am: Candidates' election day plans
Sam Rohrer for Senate
ELECTION NIGHT CELEBRATION DETAILS:
WHO: U.S. Senate candidate Sam Rohrer
WHAT: Election Night Celebration
WHERE: Heritage Corporate Center, 1060 Heritage Drive, Elverson, PA 19520
WHEN: 7 p.m. Tuesday, April 24
Tom Smith for Senate
10:30 AM – VOTING
New Township Building
849 State Route 210
Shelocta, PA 15774
8:00 PM – ELECTION NIGHT PARTY
Clarion Hotel and Conference Center
401 Holiday Drive
Pittsburgh
Steve Welch for Senate
What: Steve Welch Voting Location
Who: Republican Endorsed U.S. Senate Candidate Steve Welch
When: Tuesday, April 24, 7:15 a.m.
Where: Charlestown Elementary School, 2060 Charlestown Road, Malvern 19355
What: Steve Welch Greets Voters
Who: Republican Endorsed U.S. Senate Candidate Steve Welch
When:Tuesday, April 24, 8:00 a.m. to 7:00 p.m.
Where: Limerick Township Building, 646 W. Ridge Pike, Royersford 19468
PRIMARY NIGHT RECEPTION
8:30pm
The Crowne Plaza Hotel
King of Prussia, PA 19406
David Christian for Senate
Victory Party
Knowles-Doyle American Legion Post #317 Yardley PA 19067
215 South Main Street Yardley, PA 19067  (215) 493-4388
Marc Scaringi for Senate
WHO: Marc Scaringi, candidate for the Republican nomination to the U.S. Senate
WHAT: Will be voting at the Camp Hill Borough Administration Building at 10am and greeting voters there from 7am to 10am, and later from 7pm to 8pm. He will be available for interviews throughout the day and evening.
WHEN:  Voting: 10am. Greeting voters from 7am to 10am and from 7pm to 8pm.
WHERE:  Voting: Camp Hill Borough Administration Building, 2145 Walnut St. Camp Hill, PA 17011. Media availability while located at the Borough Administration Building and by contacting Communications Director Randy DeSoto
Kathleen Kane for Attorney General
Victory Party
Lackawanna Station Hotel
(700 Lackawanna Ave., Scranton, PA., doors open at 8:00 PM)
Patrick Murphy for Attorney General
8 to 9 AM: Voting with his wife Jenni and kids, Maggie and Jack
Location:  1 N. Wilson Ave., Bristol, PA 19007
Noon – 1 PM: Campaigning at Famous 4th Street Deli
Location: 700 S. 4th Street, Philadelphia, PA 19147
2:30 – 3:30 PM: Canvass Kick-Off at Sprinkler Fitters Local 692
Location: 14002 McNulty Road, Philadelphia, PA 19154
5 – 6 PM: Greeting voters in the 22nd Ward with Councilwoman Cindy Bass
Location: Germantown Christian Assembly, 610 E. Mt. Pleasant Ave.,
Philadelphia, PA
8 – 11 PM: Murphy for PA Election Night Party
Location: FOP Lodge 5, 1331 Spring Garden Street, Philadelphia, PA 19123
Prior to Murphy's speech, FOP President and Campaign Chairman John McNesby will be available to update media.
Dave Freed for Attorney General
7:30am – 8:00am
David Freed's Polling Place
Schaeffer Elementary School
2900 Walnut St
Camp Hill, PA 17011
8:00pm – 11:00pm
David Freed for Attorney General's Election Night Event
Park Inn
5401 Carlisle Pike
Mechanicsburg, PA 17050