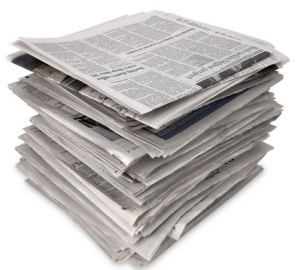 A central PA newspaper has apologized for publishing a letter to the editor advocating for Pres. Obama's execution.
The Daily Item, from Sunbury, wrote an editorial Thursday entitled "We bungled the Obama attack letter," taking responsibility for the letter which ran on Memorial Day.
"No bells went off when the editor handling the letter read it and placed it on the opinion page," the apology states. The Daily Item wrote there was "no excuse" for the mistake and said the readers "who called us on it deserve accountability."
In the original letter, W. Richard Stover of Lewisburg lays the blame for ISIS at the feet of the president.
The situation has become "a complete debacle for which he alone is responsible," Stover wrote in his rather simplistic letter titled, 'What is a Ramadi?'. Obama is "so grossly incompetent in the politics and practice of warfare," that there needs to be an abrupt change in the Oval Office, Stover continued.
"American blood lost in the initial capture of Ramadi was apparently lost in vain, due solely to the gross incompetence of our commander-in-chief," he insisted.
Stover then crosses all editorial and ethical lines at the end of his letter.
"I think the appropriate, and politically correct, term is regime change," he wrote. "Forgive me for being blunt, but throughout history this has previously been accompanied by execution by guillotine, firing squad, public hanging."
"I have absolutely no reason to expect that current practice should be any different. The end result is elimination of the problem, the method is superfluous. When society dictates, the end always justifies the means, otherwise the action would not be taken," Stover concludes.
In its apology, The Daily Item alludes to the growing radical sentiment against the president.
"Nearly a decade of provocative and divisive rhetoric" has led people to call Obama the "coward-in-chief" and the "disrespectful use of the president's first name," the paper's editorial board wrote.
We "embrace the calls for heightened awareness and a higher standard of civil discourse," the apology concludes. "We will strive to do better in the future."