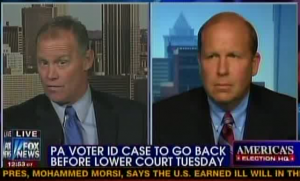 We don't use the phrase "must see TV" lightly. Tomorrow, Pa. House Majority Leader Mike Turzai and Pa. Senator Daylin Leach will square off over the new voter ID law on live television.
According to an email from Leach's campaign, the two are scheduled to appear on America's News HQ on the Fox News channel Sunday at 1:30pm.
Turzai (in)famously said back in June that the new law, which requires voters to present valid photo identification, "is gonna allow Governor Romney to win the state of Pennsylvania".
He later clarified that he meant that Romney would not have to contend with voter fraud, which he says favors Democrats – but Democrats from Pa. to DC have called the comment an admission of the law's political motivations.
Most voters who presently lack ID are traditionally Democratic demographic groups: elderly citizens, minorities and students.
Leach has been the loudest critic of the law, frequenting the MSNBC circuit and characterizing Voter ID as a deliberate effort to disenfranchise voters.
"If you have to stop people voting to win elections, your ideas suck," Leach said, also in June – a quote that became a big hit on the website Reddit.
The law was upheld in a lower state court in August, but the Pa. Supreme Court wants to see the issue re-litigated to determine the availability of ID for those who presently lack it, and whether disenfranchisement is a risk.