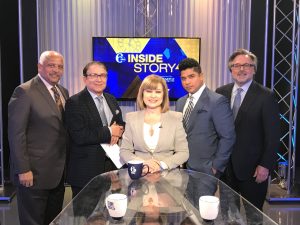 Every Friday afternoon, we provide a preview of the various Sunday morning political talk shows that are filmed and broadcast throughout the commonwealth.

Our hope is to alert readers to the important interviews and insights that each show in their region offers.
@Issue
NBC10-Philadelphia-11:30 a.m.
Iced out! Philly fans love their hockey, but they won't get to see their favorite players compete in the Olympics.  Sunday we'll discuss why the NHL pulled the plug and what the fans and athletes think about it with Philadelphia sports icon Ray Didinger and CSN's John Boruk.
Face the State
CBS21-Harrisburg-11:30 a.m.
Representative Stephen Bloom is our guest this week!
Inside Story
6abc-Philadelphia-11:30 a.m.
Host Monica Malpass and our Insiders discuss the new measures being taken to have Seth Williams removed from office and a look at a the race for District Attorney. Other topics include the Senate showdown over Gorsuch's nomination, PA House GOP passing the state budget, city council budget hearings, the missile strike against Syria, and the recent controversy with Black Lives Matter in Philly. Catch the Inside Story Sunday at 11:30am on 6abc.
George Burrell
Brian Tierney
Terry Madonna
Ajay Raju
KD/PG Sunday Edition
CBS2-Pittsburgh-11:30 a.m.
This Sunday morning@11:30AM., on KDKA-TV's "KD/PG Sunday Edition" broadcast – with KDKA-TV News Anchor Stacy Smith, and Pittsburgh Post-Gazette Editorial Page Editor John Allison:
A very special broadcast, this week, as we examine a growing public health crisis – in this nation, this state, and Southwestern Pennsylvania: opioid addiction – which resulted, in 2015 – in the highest number of recorded drug and fentanyl-related overdoses, in the history of the Westmoreland County Coroner's office.
Heroin overdose deaths are up – by a staggering 683% — since 2002, fentanyl overdose deaths, have increased, by 364-percent, since 2015, and Westmoreland County has seen a 691-percent increase in accidental drug overdose deaths, as a whole, since 2002.
We'll talk with Cheryld Emala, LCSW – Clinical Director of SPHS Behavioral Health, in Westmoreland County, Frank Salotti, MS – Director of Outpatient Services for Gateway Genesis, in Greensburg, and Dirk Matson – Coordinator of Human Services, for Westmoreland County – about the financial and human cost of drug addiction, in that community.
Then, we'll hear the personal stories of Darla Ressler and Josh Rimmel – two Westmoreland County patients, in recovery, from drug addiction – about their struggle to overcome this overwhelming and life-threatening problem.
Don't miss the "KD/PG Sunday Edition", Sunday morning@11:30AM., on KDKA-TV.
Pennsylvania Newsmakers
WGAL Channel 8 (Harrisburg and Lancaster) Sunday, April 9th at 11:30 AM
WBPH (Lehigh Valley and Philadelphia) Monday, April 10th at 8:30 PM
WKBS 47 (Altoona) Saturday, April 15th at 9:30 AM
WPCB 40 (Pittsburgh) Saturday, April 15th at 9:30 AM

This week's Pennsylvania Newsmakers features Pennsylvania's new State Treasurer Joe Torsella, who discusses his major priorities. Then, joining host Terry Madonna are Patrick Conway, President and CEO of the Pennsylvania Credit Union Association, and Brian LaForme, Executive Deputy Secretary of Banking and Securities, for a discussion of Financial Capabilities Month and Financial Reality Fairs. Link here.
The Sunday Business Page
CBS2-Pittsburgh-6:30 a.m.
This Sunday morning@6:30AM., on KDKA-TV'S "The Sunday Business Page", with KDKA-TV's Weekend News Anchor Paul Martino substituting for KDKA-TV's Money & Politics Editor Jon Delano:
On this week's program:
How the PNC Foundation and PNC's "Grow Up Great" program are helping dedicated teachers receive the supplies and teaching tools they need – for Project Head Start students. For the first time, PNC Foundation helped to convince donorschoose.org – to include Head Start, in its funding projects. We'll ask Sally McCrady – Executive Vice-President & Director of Community Affairs, for PNC Bank, and Chairwoman & President of the PNC Foundation – about this worthy initiative.
Then, a Hollywood movie producer, with a Pittsburgh connection — Thomas Tull — hits a "home run", with local sports fans – because of a generous donation to the Heinz History Center's Western Pennsylvania Sports Museum. Andrew E. Masich, Ph.D. – President & CEO of the Heinz History Center – talks with Paul Martino, about the priceless value of Pittsburgh Pirates' Hall of Fame 2nd baseman Bill Mazeroski's 1960 baseball bat and jersey – from that legendary, championship season, now, a part of the museum's own collection.
Finally, ocean-going containers, are helping the victims of natural disasters and public health challenges – through the valued work of the Pittsburgh-based, Brother's Brother Foundation. Their president – Luke Hingson – will tell us how life-saving medicines and supplies are being shipped, by the charity, and are making a difference, around the world.
Please join Paul Martino, for "The Sunday Business Page", Sunday morning@6:30AM., on KDKA-TV!