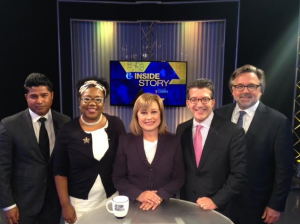 Every Friday afternoon, we provide a preview of the various Sunday morning political talk shows that are filmed and broadcast throughout the commonwealth.
Our hope is to alert readers to the important interviews and insights that each show in their region offers.
Face the State
CBS21-Harrisburg-11:30 a.m.
This week we have State Rep-elect Greg Rothman on the show. Plus, Tony and Charlie are here.
Inside Story
6abc-Philadelphia-11:30 a.m.
Host Monica Malpass and the Insiders handle a host of topics on local politics including the reported Federal probe of Philadelphia District Attorney Seth Williams, the latest on the cases against Attorney General Kathleen Kane and Congressman Chaka Fattah and Governor Wolf and the GOP pointing fingers in the PA State Budget impasse. Plus…sentiments on the on-going 'Pope-Panic' that is taking over the region. This, that and more…Sunday at 11:30 am on Inside Story. #6abcInsideStory
Roundtable
Nia Meeks
Ajay Raju
Brian Tierney
Jeff Jubelirer
KD/PG Sunday Edition
CBS2-Pittsburgh-11:30 a.m.
This Sunday morning, on KDKA-TV's "KD/PG Sunday Edition" broadcast – with KDKA-TV News Anchor Ken Rice and David Shribman, Executive Editor of the Pittsburgh Post-Gazette:
Campaign 2016 is well underway, with greater, early interest and surprises than anyone ever anticipated. What roles are Donald Trump and Bernie Sanders playing – in shaking up, what was supposed to be a "conventional" campaign? Our guests include Gerald Shuster, Ph.D. – Professor of Communication at the University of Pittsburgh – and KDKA-TV's Political Editor, Jon Delano.
Everything – from polls – to predictions – this Sunday morning, on the "KD/PG Sunday Edition" – right after CBS' "Face the Nation", on KDKA-TV.
Pennsylvania Newsmakers
WGAL Channel 8 (Harrisburg and Lancaster) Sunday, August 23rd at 7:30 AM
Pennsylvania Cable Network, Sunday, August 23rd at 4:30 PM
WBPH (Lehigh Valley and Philadelphia) Monday, August 24th at 8:30 PM
WKBS 47 (Altoona) Saturday, August 29th at 9:30 AM
WPCB 40 (Pittsburgh) Saturday, August 29th at 9:30 AM
This week's Pennsylvania Newsmakers features a journalist round table with Robert Swift of Times-Shamrock Newspapers, John Micek of PennLive/Patriot News, and Pete Muntean of WGAL-TV. These journalists join host Terry Madonna for a discussion of the efforts to resolve the state budget standoff, an update on the legal challenges facing Attorney General Kathleen Kane, and an assessment of the Democratic U.S. senate primary contest. Link here.
The Sunday Business Page
CBS2-Pittsburgh-6:30 a.m.
This Sunday morning, on KDKA-TV's "The Sunday Business Page", with KDKA-TV's Money & Politics Editor Jon Delano:
Our program is devoted, this week, to challenges to educating students, as families and school districts prepare for a new school year.  In our first segment – we'll examine how the state budget impasse is affecting school districts across the Commonwealth of Pennsylvania. Our guest is Linda Hippert, Ed.D. — Executive Director of the Allegheny Intermediate Unit – which provides specialized educational services to Allegheny County's 42-suburban school districts and five vocational/technical schools.
In  our second segment – we'll talk with Ashly Locklin – "Instructional Coach" for Commonwealth Connections Academy – described as a "public cyber charter school" – about the different way that those  institutions, their students, and families all get ready ,for the fall term. More than 36-thousand students in Pennsylvania attend public cyber charter schools, including more than 300-students, in Allegheny County.
Finally, what kind of "back-to-school" shopping season will it be – for merchants? Spending may be less than last year, because of economic problems, affecting many families. Our guest is Audrey Guskey, Ph.D. – Associate Professor of Marketing, at Duquesne University's Palumbo Donahue School of Business.