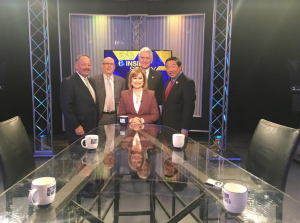 Every Friday afternoon, we provide a preview of the various Sunday morning political talk shows that are filmed and broadcast throughout the commonwealth.
Our hope is to alert readers to the important interviews and insights that each show in their region offers.
Inside Story
6abc-Philadelphia-11:30 a.m.
Host Monica Malpass and the Insiders discuss the status of the PA presidential election recount by Green Party Candidate Jill Stein and the rise of 'Fake News' and the how journalists and media companies should respond. Also discussed – Former Managing Director Rich Negrin throws his hat in the ring for Philadelphia District Attorney, heroin overdoses in city rise at an alarming rate, PA was ranked as the 42nd worst run state by an online financial website and will VP Biden run in 2020? Catch the Inside Story…Sunday at 11:30 am.

Roundtable
Larry Platt
Ed Turzanski
Nelson Diaz
Jan Ting
KD/PG Sunday Edition
CBS2-Pittsburgh-8:30 a.m.
This Sunday morning 8:30 a.m., on KDKA-TV's "KD/PG Sunday Edition" – with KDKA-TV News Anchor Ken Rice and David Shribman, Executive Editor of the Pittsburgh Post-Gazette:

On this week's broadcast:

A welcome respite – from the chronic, political gridlock on Capitol Hill:

The overwhelming passage, this past week, by the U.S. House and Senate, of the "21st Century Cures Act".

It aims to cut the bureaucracy, increase sharing of medical research and data, and provide a boost in funding, for the study and treatment of diseases, like cancer.

That act will be signed into law – next week – by President Obama.

Our guests – David Parda, MD – Chair of the Allegheny Health Network's Cancer Institute – and Edward Chu, MD – Interim Director of the University of Pittsburgh Cancer Institute – part of UPMC Cancer Centers – will talk about how this legislation could ultimately improve the life expectancy of cancer patients.

Please join Ken Rice and David Shribman, for this important broadcast – Sunday morning at 8:30 a.m. – on the "KD/PG Sunday Edition" – on KDKA-TV.
Pennsylvania Newsmakers
WGAL Channel 8 (Harrisburg and Lancaster) Sunday, December 11th at 11:30 a.m.
WBPH (Lehigh Valley and Philadelphia) Monday, December 12th at 8:30 p.m.
WKBS 47 (Altoona) Saturday, December 17th at 9:30 a.m.
WPCB 40 (Pittsburgh) Saturday, December 17th at 9:30 a.m.
This week's Pennsylvania Newsmakers features journalists John Micek, Editorial Page Editor for Harrisburg Patriot News/PennLive, and Mike Straub, Government Reporter for WGAL, who discuss the upcoming Governor's race, the Stein Presidential recount case, the Hershey visit by President-Elect Donald Trump, and next year's big state issues. Then, joining host Terry Madonna is WGAL-TV's Anchor and Consumer Reporter Brian Roche, for an update on holiday scams. Link here.
Sunday Business Page
CBS2-Pittsburgh-6:30 a.m.
This Sunday at 6:30 a.m., on KDKA-TV's "The Sunday Business Page", with KDKA-TV's Money & Politics Editor Jon Delano:

It was such a massive criminal computer network operation, that it stretched around the world – infecting almost half a million computers – worldwide.

The Pittsburgh office of the F.B.I. and the United States Attorney's office for Western Pennsylvania – working together – were recently able to destroy a sophisticated, dangerous, illegal international criminal cyber network.

We'll have the intriguing story of "Avalanche" – responsible for malware attacks – across the world – using ransomware and banking trojans – to advance money mule schemes, and money laundering.

Our special guest is Keith Mularski – Supervisory Special Agent over the Cyber Squad, in the Pittsburgh office of the F.B.I.

Then, a critical, financial problem, for the organization, upon whom so many people depend – not only, during the Christmas season, but all year long:

The Salvation Army.

This Christmas  — the Salvation Army's red kettle fundraising campaign – so important, to its mission – is running almost $170,000 behind its collections for the same period, last year.

Major Deborah Sedlar – Divisional Commander for the Salvation Army in Western Pennsylvania – talks with Jon Delano – about what that could mean – to their ability to assist others – and how you can provide a helping hand.

Finally, two Carnegie Mellon University graduates have developed a new, phone app, that could speed up the time between ordering your favorite drink – at your local watering hole – and having it served, to you.

We'll introduce you to Sachal Lakhavani and Lee Selkowitz – co-founders of the SRVD app – which is finding more and more customers and tavern and restaurant operators, who have subscribed to this service.

Please join Jon Delano – Sunday morning at 6:30 a.m. – for "The Sunday Business Page", on KDKA-TV!