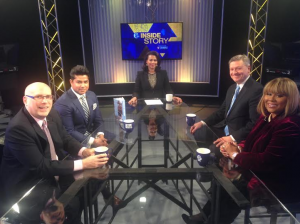 Every Friday afternoon, we provide a preview of the various Sunday morning political talk shows that are filmed and broadcast throughout the commonwealth.
Our hope is to alert readers to the important interviews and insights that each show in their region offers.
Face the State
CBS21-Harrisburg-8:30 a.m. (Rerun PCN-9:00 a.m.)
Speaker Turzai is on the show this week. We're talking mostly about the budget. This week Kevin Harley and Brittany Crampsie are filling in for Tony and Charlie for political commentary. WHP 580's RJ Harris is here as our guest journalist.
Inside Story
6abc-Philadelphia-11:30 a.m.
Host Tamala Edwards and our Insiders discuss the pros and cons of Montgomery County's Josh Shapiro announcing his run for PA Attorney General. Other topics include Dwight Evans raises significant cash but can he beat Chaka Fattah, Kenney wants more diversity in the Philadelphia's building trades, the Eagles pick a new head coach and will the Lenfest donation of his newspaper empire to a non-profit be the future 'golden ticket' to protect journalism? This and much more on Inside Story…Sunday at 11:30 am.
Roundtable
Ajay Raju
Dom Giordano
Larry Platt
Renee Amoore
KD/PG Sunday Edition
CBS2-Pittsburgh-6:30 a.m.
This Sunday morning at 6:30 a.m., on KDKA-TV'S "KD/PG Sunday Edition" broadcast – with KDKA-TV News Anchor Ken Rice and John Allison – Associate Editor of the Pittsburgh Post-Gazette:
On this Sunday's broadcast:
Macy's announced , last week, that it would close approximately forty stores, which would furlough almost 4,000 employees at shopping malls, across the country – including Century Three Mall – in West Mifflin, Pennsylvania – near Pittsburgh. Macy's blamed everything from the warm, winter weather, to disappointing earning – for its decision.
What is the state of retailing, in America, with major growth in on-line shopping?
Our guest – the last general manager of the legendary, Downtown Pittsburgh Kaufmann's department store, before it was taken over, by Macy's (who then, closed that store,    
last fall) – Tom Windfelder – gives us his perspective. He's now with BENCHMARK Financial Advisors, in Sewickley, Pennsylvania.
Then, the amazing story of a retired postal worker from Valencia, Pennsylvania – Butler County – who taught her adventurous daughter, lessons about personal safety, many years ago – and then, turned those lessons into a video game and phone app – which is available, through Google Play, and I-Tunes.
We'll introduce you to Rosemarie Thompson and her grown-up daughter, Linda, creators of "Street Smart Kidz"!
Finally, the truly inspiring story of a woman, who lost her seven-year-old son to heart disease, and turned his love for the arts into a passion of her own – to establish an arts center in Pittsburgh's Hill District community – for urban youth who have the same dreams as Amon Cashmere Harris . Amon's mother – Tyian Battle – joins us – to talk about the great success of her non-profit, ACH Clear Pathways Center (named for Amon) – which serves at least 150-children – and which has established a capital campaign, to renovate another building, to expand its programming.
Please join Jon Delano – Sunday morning at 6:30 a.m., for "The Sunday Business Page", on KDKA-TV!
Pennsylvania Newsmakers
WGAL Channel 8 (Harrisburg and Lancaster) Sunday, January 17th at 11:30 AM
WBPH (Lehigh Valley and Philadelphia) Monday, January 18th at 8:30 PM
WKBS 47 (Altoona) Saturday, January 23rd at 9:30 AM
WPCB 40 (Pittsburgh) Saturday, January 23rd at 9:30 AM
This week's Pennsylvania Newsmakers features a journalist roundtable with John Micek, Editorial Page Editor for Patriot News/Penn Live, Angela Couloumbis of the Philadelphia Inquirer, and Tony Romeo of KYW/KDKA, who join host Terry Madonna for a look into the big stories of 2016: the state budget, the beleaguered Attorney General Kathleen Kane, and the upcoming U.S. Senate and row office elections. Link here.
The Sunday Business Page
CBS2-Pittsburgh-11:30 a.m.
This Sunday morning, KDKA-TV's "KD/PG Sunday Edition" will be seen in its NEW time period – 11:30 a.m., right after CBS' "Face the Nation".  On our broadcast, this week, co-hosts Ken Rice – KDKA-TV News Anchor – and John Allison – Associate Editor of the Pittsburgh Post-Gazette – talk with two, experienced political leaders – about the Iowa Presidential Caucus – just two weeks away!
What is the Iowa Caucus like – and why is it so important , to the 2016 Presidential campaign? We'll ask Keith Schmidt – President of Bridge Connections – a public relations and political consulting firm – who is a former top aide to former United States Senator and Republican presidential candidate, Rick Santorum.
Also, with us, is Nancy Patton Mills – Chairperson of the Allegheny County Democratic Committee, a pledged supporter of former Secretary of State Hillary Clinton. and an expert in Communications and Political Rhetoric.
Please join Ken Rice and John Allison – for the "KD/PG Sunday Edition" – at its NEW time period – Sunday morning at 11:30 a.m., on KDKA-TV!