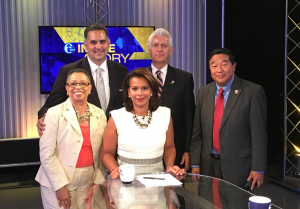 Every Friday afternoon, we provide a preview of the various Sunday morning political talk shows that are filmed and broadcast throughout the commonwealth.
Our hope is to alert readers to the important interviews and insights that each show in their region offers.
@Issue
NBC10-Philadelphia-11:30 a.m.
The show is pre-empted by the British Open.
Inside Story
6abc-Philadelphia-11:30 a.m.
Host Monica Malpass and the Insiders discuss 'solutions' to America's enduring race issues, two bills being brought forth to label assaults on cops 'Hate Crimes', the funding deal reached to pass the PA budget, how will Trump's VP choice resonates with local Republicans and what are Governor Christie's next steps. Also discussed, Temple University top brass in disarray, new presidential polls suggest Clinton is losing ground in PA, while McGinty is leading Toomey in new PA Senate Race Poll. From left to right, but always local…Catch the Inside Story – Sundays at 11:30 a.m.

Roundtable
Sharmain Matlock-Turner
Ed Turzanski
Rich Negrin
Jan Ting
KD/PG Sunday Edition
CBS2-Pittsburgh-11:30 a.m.
This Sunday morning at 11:30 a.m., on KDKA-TV's "KD/PG Sunday Edition"—with KDKA-TV News Anchor Stacy Smith and John Allison, Editorial Page Editor of the Pittsburgh Post-Gazette:
Americans seem more divided than ever, about racial issues – after the targeted murders on July 7th, of five, Dallas, Texas police officers, the wounding of three others, as well as injuries to a several civilians. The sniper – an African-American, U.S. veteran of the war in Afghanistan – admitted that he wanted to kill white people – and was upset about previous shooting deaths, by white police officers, of two, African-American men – in separate incidents, a few days, before – in Baton Rouge, Louisiana and St. Paul, Minnesota.

In the second in a series of special interviews about this issue, we'll hear concerns, and search for answers, with Todd A. Allen, Ph.D. – Professor of Communication Studies at Grove City College, in Mercer County, Pennsylvania – who hosts special student tours to historic places in modern, American civil rights history – from Selma, to Montgomery, and beyond.

We'll also talk with Reverend Glenn Grayson, Sr. – Pastor, at the Wesley Center AME Zion Church, in Pittsburgh's Hill District – whose 18-year-old son, Jeron, was killed – in a non-police-related murder, in 2010 – and Pastor Clayton Walker – Senior Pastor of the Mustard Seed Church, in Monroeville, Pennsylvania – and Senior Superintendent of the Covenant Kingdom Ministries International.

Please join Stacy Smith and John Allison, for this important discussion – Sunday morning at 11:30 a.m. – right after CBS' "Face the Nation" – on the "KD/PG Sunday Edition", on KDKA-TV.
Pennsylvania Newsmakers
WGAL Channel 8 (Harrisburg and Lancaster) Sunday, July 17th at 5:00 AM
WBPH (Lehigh Valley and Philadelphia) Monday, July 18th at 8:30 PM
WKBS 47 (Altoona) Saturday, July 23rd at 9:30 AM
WPCB 40 (Pittsburgh) Saturday, July 23rd at 9:30 AM
This week's Pennsylvania Newsmakers features Robert Swift of Times-Shamrock Newspapers, and Marc Levy of the Associated Press, who discuss the end of the budget and revenue stalemate. Then, joining host Terry Madonna is Joseph Robinson, Jr., Executive Director of the South Central PA Sickle Cell Council, for a discussion of sickle cell disease. Link here.
PMA Perspective
PCN-8:30 a.m.
In this episode we examine the topic of lawsuit abuse reform and highlight solutions to make Pennsylvania more economically competitive. PMA's Carl Marrara interviews Catherine Philistine, President of F.B. Wright Company, about her unfortunate situation of being in the crosshairs of unwarranted lawsuits and the effects this has on her business and employees. In the studio, David N. Taylor hosts PA State Representative Warren Kampf (R-157) to discuss legislation he authored to alleviate duplicative rewards on the backs of economic productivity.
The Sunday Business Page
CBS2-Pittsburgh-6:30 a.m.
This Sunday morning at 6:30 a.m., on KDKA-TV's "The Sunday Business Page" – with KDKA-TV's Money & Politics Editor Jon Delano:

On this week's broadcast – there were unexpected, new revelations, this past week, about the Jerry Sandusky sexual abuse scandal – at Penn State University. Just as supporters of the late, legendary football coach Joe Paterno resumed their demands that Paterno's statue be returned to a prominent place on campus, new, unsealed documents – released, in an insurance case – indicate that Paterno could have known about allegations against his assistant coach Sandusky, as far back as the mid 1970's. What continuing, financial impact, is this case having – on Penn State's image, and student recruitment?

We'll ask John P. Gismondi, Esq. – Principal, at Gismondi & Associates, P.C. – a Pittsburgh attorney, who has followed the Sandusky case, very closely.

Then, Pittsburgh's long, and loyal connection to the people of Haiti, and their public health. We'll mark the 60th anniversary of Hopital Albert Schweitzer Haiti – located in that country's lower Artibonite Valley – with Jayson Samuels – Major Gifts Manager for the facility – and Pittsburgh journalist Barry Paris – author of the 2000 book – "Song of Haiti" – which describes the work of Dr. William Larimer Mellon, Jr. and his wife, Gwen Grant Mellon – founders of Hopital Albert Schweitzer Haiti.

Finally, the inspiring story of "100 Black Men of Western Pennsylvania" – and the 30th anniversary of their critical, volunteer work, to provide mentoring skills to African-American young men. We'll meet Ronald Lawrence – retired businessman, and president of the local chapter of this national organization – and tell you how you can help them celebrate their 30th anniversary, at a gala event, this coming October.

Please join Jon Delano – Sunday morning, at 6:30 a.m., on KDKA-TV's "The Sunday Business Page"!