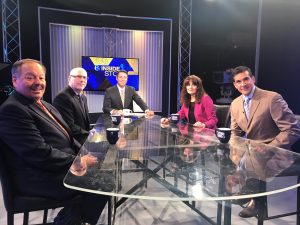 Every Friday afternoon, we provide a preview of the various Sunday morning political talk shows that are filmed and broadcast throughout the commonwealth.
Our hope is to alert readers to the important interviews and insights that each show in their region offers.
This Week in Pennsylvania
WHTM/Harrisburg-Lancaster-Lebanon-York – Sunday at 11am
WBRE/Wilkes Barre-Scranton-Hazelton – Sunday 630am
WTAJ/Johnstown-Altoona-State College – Sunday 630am
WJET/Erie – Sunday 10am
WHAG/Hagerstown, MD – Sunday 7am
WETM/Elmira, New York – Sunday 7am
No analysts this week. We talk budget with Jay Costa and we debate the future of nuclear power in a state with cheap and abundant natural gas. Should lawmakers bail out nuclear? We have both sides of the issue.  
Our Region's Business
WPXI-TV-Pittsburgh – Sunday at 11:00 a.m.
PCNC (Pittsburgh Cable News Chanel) Sunday at 3:30p.m. and 7:30p.m.; Monday at 3:30 p.m.
Earlier this month, the Pennsylvania General Assembly passed, and the Governor signed, bipartisan legislation to create pension plans for new hires that more closely mirror those available in the private sector.  The Pew Charitable Trusts called the bill "one of the most – if not the most – comprehensive and impactful reforms any state has implemented."
Now, Pennsylvania Governor Tom Wolf and Pennsylvania Speaker of the House Mike Turzai discuss the bipartisan effort that led to the passage of landmark state pension reform legislation on Sunday's edition of Our Regions Business.
Tune in this Sunday, July 2 at 11:00 a.m. on WPXI-TV to hear the Governor and Speaker discuss why the pension reform law is significant, its cost saving and risk-shifting benefits, and how Democrats and Republicans were able to work together to achieve this major achievement. Jenn Beer, senior government affairs director with the Greater Pittsburgh Chamber of Commerce, also sits down to discuss why state pension reform had become such a major priority for the Chamber and Allegheny Conference and what it means for the financial health of the Pittsburgh region and state.
Also on Sunday's broadcast: Downtown Pittsburgh is getting an Italian accent next weekend as the Pittsburgh Downtown Community Development Corporation holds the Highmark Italian Streat Festival – that's Streat as in Eat. John Valentine, executive director of the CDC, and Julian Vallozzi, owner of Vallozzi's Pittsburgh and Talia Cucina and Roticceria, preview the festival.
Face the State
CBS21-Harrisburg-11:30 a.m.
This week, Sen. Daylin Leach (D) 17th Dist. discusses his feelings about President Donald Trump and his tweets. Robb Hanrahan also talks with him about how Leach feels the state budget process should be improved and how legalizing and taxing recreational marijuana could bring in millions if not billions of dollars to the state's General Fund. WHP 580's R.J. Harris joins Political Insiders Charlie Gerow and Tony May for a rousing discussion led by Hanrahan on Trump's tweeting, the budget and more. Join us for the most talked about political talk show in Central Pennsylvania.  
Inside Story
6abc-Philadelphia-11:30 a.m.
Host Matt O'Donnell and our Insiders discuss at length the Rise and Fall of Philadelphia District Attorney Seth Williams as he pleads guilty to bribery charges and is sent to jail immediately.  The case, the corruption and the optics around Philadelphia's political scene are discussed.  Other topics include the FBI wiretapping Union Boss John Dougherty for over a year, the Phila. FOP endorses Beth Grossman (R) for District Attorney, NJ Senate passes a wage equity bill and PA will soon limit the release of police body cam footage to the public.  Several debates ensue on this Inside Story .. Sunday at 11:30 am
Larry Platt
Christine Flowers
Nelson Diaz
Val DiGiorgio
KD/PG Sunday Edition
CBS2-Pittsburgh-11:30 a.m.
This Sunday morning 11:30AM., on KDKA-TV'S "KD/PG Sunday Edition", with KDKA-TV news anchor Ken Rice and David Shribman, executive editor of the Pittsburgh Post-Gazette:
On this Sunday's broadcast:
The United States Supreme Court just completed its current term – often, hearing cases, with one fewer justice, than usual, because of partisan politics, over who would replace Associate Justice Antonin Scalia, who died, in October, 2016.
We'll look at the results of the Court's recent term, and the impact, on the Court, from political divide, in the United States Senate – with Ken Gormley, J.D. – President of Duquesne University, former dean of its law school, and law professor, and a noted constitutional law expert. Gormley – who is also the author of several books – including "Archibald Cox: Conscience of a Nation", "The Death of American Virtue: Clinton vs. Starr", and "The Presidents and the Constitution: A Living History" — will also share his thoughts, on the appointment of a Special Counsel, to investigate the alleged role of the Russians, in the 2016 American Presidential election.
Don't miss this timely broadcast, Sunday morning@11:30AM., right after CBS' "Face the Nation", on the "KD/PG Sunday Edition", on KDKA-TV!
Pennsylvania Newsmakers
WGAL Channel 8 (Harrisburg and Lancaster) Sunday, July 2nd at 11:30 AM
WBPH (Lehigh Valley and Philadelphia) Monday, July 3rd at 8:30 PM
WKBS 47 (Altoona) Saturday, July 8th at 9:30 AM
WPCB 40 (Pittsburgh) Saturday, July 8th at 9:30 AM
This week's Pennsylvania Newsmakers features journalists Steve Esack of the Allentown Morning Call, Karen Langley of the Pittsburgh Post-Gazette, and Marc Levy of the Associated Press, who discuss legislation to permit school personnel to carry guns, the $2.5 billion budget shortfall, Libre's law, and a possible lawsuit against the Pennsylvania Higher Assistance Agency.  Link here.
The Sunday Business Page
CBS2-Pittsburgh-6:30 a.m.
This Sunday morning @6:30AM., on KDKA-TV'S "The Sunday Business Page", with KDKA-TV's money & politics editor, Jon Delano:
On this week's program:
Takata – the Japanese manufacturer of millions of faulty car airbags – has filed for bankruptcy protection. Those airbags contained inflators, that have been blamed for at least sixteen deaths, and 180-injuries. The airbags were recalled – worldwide – after it was determined that, with too much force, they could explode, sending shrapnel, flying, into passengers.  What will the Takata bankruptcy filing mean, to consumers, whose cars had these airbags? We'll ask attorney Edwin J. Kilpela – Partner, with the law firm of Carlson Lynch Sweet Kilpela & Carpenter, LLP.
Then, the cost of financing a college education has become prohibitive, and is threatening to destroy "the American Dream", for many families. However, there are ways, to save some money, on tuition, with proper financial planning. We'll have some valuable tips, from Seth C. Dresbold, Esq., MBA, CFP – Partner and Chief Counsel, with Signature Financial Planning.
Finally, more than 20-thousand people participated in a Bike Pittsburgh event, in Downtown Pittsburgh, last Sunday. "Open Streets Pittsburgh" provides easy access to bicycling, and, so much more. Michael Carroll – Director of Events, for Bike Pittsburgh – and Alexandria Shewczyk – the organization's Director of Communications & Marketing – will preview the next "Open Streets Pittsburgh" event, scheduled to take place, on Sunday, July 30th, in the Strip District.
Please join Jon Delano, for this 4th of July Weekend edition of "The Sunday Business Page", Sunday morning@6:30AM., on KDKA-TV!