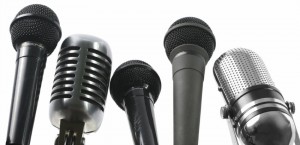 Every Friday afternoon, we provide a preview of the various Sunday morning political talk shows that are filmed and broadcast throughout the commonwealth.
Our hope is to alert readers to the important interviews and insights that each show in their region offers.
@Issue
NBC10-Philadelphia-11:30 a.m.
Host: Renee Chenault-Fattah
Topic #1 Recruiting Volunteer Firefighters
Topic #2 Health Screenings for Busy Women
Topic #3 New Children's Hospital in South Jersey
Face the State
CBS21-Harrisburg-11:30 a.m.
Host: Rob Hanrahan
Sen. Charles McIlhinney is on the show this week. We'll be talking about the budget, liquor law changes and privatization. Tony, Charlie and RJ are here as well.
Journalists Roundtable
PCN-Harrisburg-9:00 p.m. (Rerun from Thurs.)
With just a few legislative session days left on the calendar before the close of the fiscal year, compromise is the buzzword. What will and will not be a part of this year's budget? Ideas being discussed are liquor store privatization and direct sale of wine to consumers; taxes – on goods and services, tobacco, personal income and Marcellus Shale; state and school district pension modernization; and public school funding. These topics and the latest predictions as to when the state budget will be finalized will be discussed on the road in the state capitol newsroom this week. Our guests are: Brad Bumsted, with the Pittsburgh Tribune-Review; Karen Langley, with the Pittsburgh Post-Gazette; Marc Levy with the Associated Press; Andrew Staub, Bureau Chief with the PA Independent. Our host is Brian Lockman. Link here.
KD/PG Sunday Edition
CBS2-Pittsburgh-11:30 a.m.
This week's show is co-hosted by KDKA-TV News Anchor Ken Rice and Jim O'Toole, Politics Editor of the Pittsburgh Post-Gazette. On this week's broadcast, we'll touch on Friday's historic, 5-4 United States Supreme Court decision – upholding the legality of gay marriage – across America.  Then, we'll concentrate on another, crucial United States Supreme Court decision – 6-3 – affirming the constitutionality of the Affordable Care Act – better-known as "Obamacare".
Our guests are Keith T, Kanel, M.D. – Chief Medical Officer for the Pittsburgh Regional Health Initiative – a supporting organization of the Jewish Healthcare Foundation of Pittsburgh – and Richard A. Ejzak, J.D. – Director of Cohen & Grigsby, P.C. – a Pittsburgh law firm.
Pennsylvania Newsmakers
WGAL Channel 8 (Harrisburg and Lancaster) Sunday, June 28th at 7:30 AM
Pennsylvania Cable Network, Sunday, June 28th at 4:30 PM
WBPH (Lehigh Valley and Philadelphia) Monday, June 29th at 8:30 PM
WKBS 47 (Altoona) Saturday, July 4th at 9:30 AM
WPCB 40 (Pittsburgh) Saturday, July 4th at 9:30 AM
This week's Pennsylvania Newsmakers features a legislative update with journalists Steve Esack, of the Allentown Morning Call, and Mary Wilson of PA Public Radio. Then, joining host Terry Madonna are Senator Lloyd Smucker (R-13th District), Chairman of the Senate Education Committee, and David W. Patti, CEO of the Pennsylvania Business Council, for a discussion of the proposed fair funding formula and the prospects for the passage of a state budget. Link here.
The Sunday Business Page
CBS2-Pittsburgh-6:30 a.m.
This week's show has KDKA-TV News Anchor Stacy Smith substituting for KDKA-TV's Money & Politics Editor, Jon Delano.
On Sunday's broadcast, financial analyst Rick Applegate, CFP – Partner with the Pittsburgh office of Cantor Fitzgerald Wealth Partners L.P., and a regular member of the Newsradio 1020 KDKA Morning News Program's "Moneytalk" segment – looks at the mixed economic messages we've been seeing: from steady economic growth and some wage improvement – to concerns about the political and economic strength of countries like Greece – and the prospect of rising interest rates in this country, before the end of the year.
In our second segment – we'll talk about the release of Pope Francis' historical encyclical – "Laudato Si" – which ties protection of the environment to the responsibilities of religion. Our guests include Daniel P.Scheid, Ph.D. — Assistant Professor, Department of Theology, McAnulty College & Graduate School of Liberal Arts, at Duquesne University – and James Weber, Ph.D. — Professor of Business Ethics & Management, at Duquesne's Palumbo Donahue School of Business. Duquesne has a special commitment to environmental sustainability, which is part of its religious, Spiritan-based mission.
In our final segment, we'll talk about the jobs market of the 21st Century – and how Rosedale Technical College in Kennedy Township is providing upgraded skills to its students – and is positioning them, to be hired for good paying jobs in our area. Rosedale's President and Director Dennis Wilke will appear with Jim Nassif, President of HANCO, Ltd. – a firm that makes, sells, and services equipment for companies involved in the energy industry – and is partnering with Rosedale, as its students look for work in that sector of the local economy.