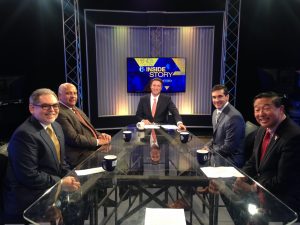 Every Friday afternoon, we provide a preview of the various Sunday morning political talk shows that are filmed and broadcast throughout the commonwealth.

Our hope is to alert readers to the important interviews and insights that each show in their region offers.
@Issue
NBC10-Philadelphia-11:30 a.m.
This week on NBC10 @ ISSUE we'll quiz you on what you know about your hard earned money.  Turns out many Americans can't answer even basic questions about their finances.  
That plus its the modern way burglars are breaking into your home…not through the windows…get this, they could be getting in through your refrigerator and washing machine.  
Coming up Sunday morning at 11:30, following "Meet the Press" only on NBC10
Face the State
CBS21-Harrisburg-11:30 a.m.
This week we sat down with House Appropriations Committee Chairman Representative Stan Saylor.
Inside Story
6abc-Philadelphia-11:30 a.m.
Host Matt O'Donnell and our Insiders discuss the PA Gubernatorial Candidate Scott Wagner (R) and NJ Gubernatorial Candidate Phil Murphy (D) as they start campaigning via videos and ads.  One more candidate jumps into the race for Philly District attorney, but the FOP already named who they are supporting.  Also discussed – PA budgets with a nod towards a tax hike, Temple University raises room and board due to the Soda Tax and are we seeing a more energized Senator Casey these days?   Catch the Inside Story .. Sundays at 11:30 am on 6abc.
George Burrell
Val DiGiorgio
Pedro Ramos
Jan Ting
KD/PG Sunday Edition
CBS2-Pittsburgh-11:30 a.m.
This Sunday morning@11:30AM., on KDKA-TV's "KD/PG Sunday Edition", with KDKA-TV News Anchor Stacy Smith and David Shribman, Executive Editor of the Pittsburgh Post-Gazette:
On this week's broadcast:
How could a major change in economic policy in Washington, from the Trump Administration and a Republican-controlled Congress, affect consumers and industry?
We'll talk with Augustine "Gus" Faucher, Ph.D. – Senior Vice-President and Deputy Chief Economist for PNC Financial Services Group – and Kim Caughey Forrest – Vice-President and Senior Equity Analyst at the Fort Pitt Capital Group – about rising interest rates, changing trade policy, and record highs for the Dow Jones Industrial Average.
Please join Stacy Smith and David Shribman, for this timely and important broadcast, on the "KD/PG Sunday Edition", Sunday morning@11:30AM. on KDKA-TV
Pennsylvania Newsmakers
WGAL Channel 8 (Harrisburg and Lancaster) Sunday, March 19th at 11:30 AM
WBPH (Lehigh Valley and Philadelphia) Monday, March 20th at 8:30 PM
WKBS 47 (Altoona) Saturday, March 25th at 9:30 AM
WPCB 40 (Pittsburgh) Saturday, March 25th at 9:30 AM

This week's Pennsylvania Newsmakers features W. Russell McDaid, President and CEO of the Pennsylvania Health Care Association, who discusses the impact of Governor Wolf's budget proposal on long term health care, and the importance of skilled nursing facilities. Then, joining host Terry Madonna is Terry Fitzpatrick, President & CEO of the Energy Association of Pennsylvania, for a discussion of "Utility Cybersecurity" and protecting the electricity grid from hacking and massive blackouts. Link here.
The Sunday Business Page
CBS2-Pittsburgh-6:30 a.m.
This Sunday morning@6:30AM.,on KDKA-TV's "The Sunday Business Page", with KDKA-TV's Money & Politics Editor Jon Delano:
On this week's program:
A special look at growing interest by economically struggling Mon Valley steel communities – who want to be awarded a state license, for the manufacture of medical cannabis, or marijuana (now legal, under certain restrictions, in Pennsylvania).
First, we'll talk with Gabriel Perlow – CEO of PurePenn – a Pittsburgh-based company – and Jordan Lams – CEO of MOXIE – from Los Angeles – who would work with PurePenn on their proposed project, which would be located in McKeesport, Pennsylvania – former home of U.S. Steel's now-closed Tube Works.
Then, we'll be joined by John Fetterman – (D) Mayor of Braddock, Pennsylvania – whose largest employer is U. S. Steel's Edgar Thomson Works. Braddock is also seeking a state license, for the manufacture of medical cannabis.
Finally, we'll find out about a DIFFERENT kind of "growing" initiative in Southwestern Pennsylvania. ALCOSAN is trying to help municipalities and homeowners –with the huge expense of replacing or repairing outmoded stormwater and groundwater infrastructure. Communities may be eligible for financial grants – as part of ALCOSAN's "GROW" program.
Jan Oliver – Director of ALCOSAN's Regional Conveyance – will share the details of this important project.
Please join Jon Delano – Sunday morning@6:30AM. – for "The Sunday Business Page", on KDKA-TV.