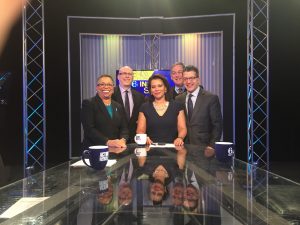 Every Friday afternoon, we provide a preview of the various Sunday morning political talk shows that are filmed and broadcast throughout the commonwealth.

Our hope is to alert readers to the important interviews and insights that each show in their region offers.
@Issue
NBC10-Philadelphia-11:30 a.m.
On NBC10 @ ISSUE this week our guest is Philadelphia Mayor Jim Kenney. NBC10's Lauren Mayk discuss the Mayor's proposed city budget with Mr. Kenney and we learn how President Trump has changed the Mayor's job.
Face the State
CBS21-Harrisburg-11:30 a.m.
This week's guest is Congressman Glenn 'G.T.' Thompson.
Inside Story
6abc-Philadelphia-11:30 a.m.
Host Tamala Edwards and the Insiders discuss Mayor Kenney's budget proposal and looming pension issues.  The panelists discuss vandalism at the Mount Carmel Jewish cemetery, and President Trump's comments that the acts were to make "others look bad."  They also discuss Villanova University's controversial plan to add crosses to their bridge.  Catch the Inside Story Sundays at 11:30 am.
Jeff Jubelirer
Sam Katz
Larry Platt
Sharmain Matlock-Turner
KD/PG Sunday Edition
CBS2-Pittsburgh-11:30 a.m.
This Sunday morning@11:30AM., on KDKA-TV's "KD/PG Sunday Edition" –with KDKA-TV News Anchor Stacy Smith and John Allison – Editorial Page Editor of the Pittsburgh Post-Gazette.
On this week's broadcast:
After a rather rocky, controversial start, to his unorthodox administration, President Donald J. Trump received generally high marks – for his address – last Tuesday – to Congress. What can we expect, from members of Western Pennsylvania's congressional delegation, when they consider legislative proposals, such as the elimination of the Affordable Care Act – or Obamacare, and pathways, to tax reform?  We'll talk with Representative Mike Kelly – Republican – from the 3rd Congressional District (Butler) – and one of President Trump's earliest supporters. Congressman Kelly is now a member of the powerful House Ways and Means Committee.
Please join Stacy Smith and John Allison, for this timely discussion, on the "KD/PG Sunday Edition" – Sunday morning@11:30AM., on KDKA-TV.
Pennsylvania Newsmakers
WGAL Channel 8 (Harrisburg and Lancaster) Sunday, January 22nd at 11:30 a.m.
WBPH (Lehigh Valley and Philadelphia) Monday, January 23rd at 8:30 p.m.
WKBS 47 (Altoona) Saturday, January 28th at 9:30 a.m.
WPCB 40 (Pittsburgh) Saturday, January 28th at 9:30 a.m.

This week's Pennsylvania Newsmakers features Pennsylvania Auditor General Eugene DePasquale, who discusses opioid treatment initiatives, immigration, and other aspect of his second term agenda. Then, joining host Terry Madonna are Lisa Scullin, Vice President of Communications for Milton Hershey School, and Malcolm Jones, a Milton Hershey Junior, for a discussion of the school's career programs and college preparation.  Link here.
The Sunday Business Page
CBS2-Pittsburgh-6:30 a.m.
This Sunday morning, on "The Sunday Business Page", with KDKA-TV's Money & Politics Editor Jon Delano:
On this week's program – challenging times, for the U.S. Army Corps of Engineers – and its efforts to maintain the aging locks and dams, along the Upper Allegheny and Monongahela Rivers.  Although commercial traffic has dropped off, in these areas, the Allegheny and Monongahela have seen increased activity for tourism. However, the way that legislation has been written – Western Pennsylvania – with some of the oldest locks and dams in the country – is losing federal financial support, to maintain their repair – to other areas.
Our guest – Colonel John Lloyd  — Commander of the Pittsburgh District of the U.S. Army Corps of Engineers – talks with Jon Delano about what is necessary, to improve the safety and viability of these critical structures that control river flow, and also protect communities, against flooding.
Then, we'll look at last week's fiasco, at the Academy Awards, involving the once-prestigious, international certified public accounting and financial services firm – Price Waterhouse Coopers. What happened – to cause the wrong envelope for Best Motion Picture, to be handed to Warren Beatty and Faye Dunaway? How has the firm's reputation, branding, and the relationship between PWC and the Motion Picture Academy been damaged, and what may happen, next? We'll ask Duquesne University's marketing expert, Audrey Guskey, Ph.D. – Associate Professor at the Palumbo Donahue School of Business – for her perspective.
Finally, we'll preview the Pittsburgh Business Show – scheduled for April 19th -20th – at the David L. Lawrence Convention Center, in Downtown Pittsburgh. Our guests include the president of  the show – Linda Jo Thornberg – and Susan Weinzierl – owner of the Sewickley, Pennsylvania-based Professional Graphic Communications, Incorporated – and a scheduled exhibitor, at the first Pittsburgh Business Show.
Please join Jon Delano – Sunday morning@6:30AM. – for "The Sunday Business Page", on KDKA-TV!