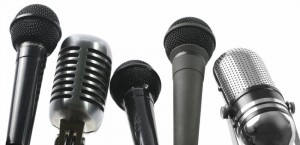 Every Friday afternoon, we provide a preview of the various Sunday morning political talk shows that are filmed and broadcast throughout the commonwealth.
Our hope is to alert readers to the important interviews and insights that each show in their region offers.
We're just starting out and our hope is this feature will grow with time. So, if there is a program you'd like to recommend or, better yet, you work for a program not yet featured here send us a message (sysnyder@politicspa.com) and we'll try to include it.
@Issue
NBC10-Philadelphia-11:30 a.m.
Host: Jim Rosenfield
Guests: Doug Oliver, Anthony Hardy Williams
This week, we continue our series of one-on-one interviews with the Democratic candidates for Philadelphia Mayor.
Face the State
CBS21-Harrisburg-11:30 a.m.
Host: Rob Hanrahan
No guest this week. Instead there'll be a roundtable including Robb, Tony, Charlie and John Micek, who will analyze the latest news concerning the budget and pension reform.
Inside Story
6abc-Philadelphia-11:30 a.m.
Host: Tamala Edwards
Roundtable: George Burrell
Brian Tierney
Ajay Raju
Val DiGiorgio
Host Tamala Edwards and our Insiders discuss the Mayor's Race just about 10 days out.  At our 6abc Debate, Tony Williams said he would let go of Police Commissioner Ramsey if he were Mayor.  Mayor Nutter fired back and the sparring began. They talk about how those statements will affect the race, as well the introduction of negative ads on TV. Also on the topics list, they discuss City Council with Maria Quinones-Sanchez receiving some impressive backing; Alan Domb and his campaign giving and if Jannie Blackwell will have to answer for her actions. Plus – Did the Baltimore State Attorney Mosby rush to charge in the Freddie Gray case; should Toomey talk local law enforcement on the Senate floor, and what about Former Eagle LeSean McCoy's statements about Chip Kelly to ESPN?  Get the Inside Story…Sunday at 11:30 am on 6abc.
Journalists Roundtable
PCN-Harrisburg-8:30 p.m. (Rerun from Thurs.)
Gov. Tom Wolf has been in office 100 days and his proposed tax increases are being scrutinized. The Independent Fiscal Office has weighed in with recent revenue projections and state budget negotiations are heating up. Also, Senate Appropriations Chair Pat Browne recently had a motorcycle accident. Will his temporary absence affect budget negotiations? These issues as well as public employee pensions, property taxes and earned income tax credits are topics of discussion by our guests: Karen Langley, Pittsburgh Post-Gazette; Chris Comisac, Bureau Chief, Capitolwire; and Steve Esack, Harrisburg Correspondent, Allentown Morning Call. Our host this week is Francine Schertzer. Link here.
KD/PG Sunday Edition
CBS2-Pittsburgh-11:30 a.m.
Our guest is Pennsylvania's Auditor General – Eugene DePasquale. He'll be talking about underfunded pensions – a huge crisis for municipalities across the state – with special implications for cities like Scranton – soon to face bankruptcy – and pension funds for police and firefighters, from Pittsburgh to Philadelphia.
DePasquale also discusses the education funding crisis in Pennsylvania – and the role that charter schools are playing, in diverting school district subsidies from public schools to charter schools.
Our co-hosts, this week, are KDKA-TV news anchor Ken Rice and John Allison – Associate Editor of the Pittsburgh Post-Gazette.
Pennsylvania Newsmakers
WGAL Channel 8 (Harrisburg and Lancaster) Sunday, May 10th at 7:30 AM
Pennsylvania Cable Network, Sunday, May 10th at 4:30 PM
WBPH (Lehigh Valley and Philadelphia) Monday, May 11th at 8:30 PM
WKBS 47 (Altoona) Saturday, May 16th at 9:30 AM
WPCB 40 (Pittsburgh) Saturday, May 16th at 9:30 AM
This week's Pennsylvania Newsmakers features journalists John Micek, Editorial Page Editor for Harrisburg Patriot News/Penn Live and Pete Muntean, Capitol Reporter for WGAL-TV, who discuss the progress of the Republican legislative agenda. Then, joining host Terry Madonna is Peter Greer, President and CEO of HOPE International, for a conversation about how HOPE is rethinking charitable giving. Link here.
The Sunday Business Page
CBS2-Pittsburgh-6:30 a.m.
On KDKA-TV's "The Sunday Business Page" with KDKA-TV Money & Politics Editor Jon Delano (6:30AM.) – we'll profile a Pittsburgh company, that is changing the face of products for infants and other small children – through high-tech, upgraded designs for strollers and car seats. Our guest is Teresa Hammond – Vice-President of Marketing for "4 Moms" – which just moved to larger headquarters in Downtown Pittsburgh, and employs more than 150-people. The products are designed here – and reflect the impact of robotics.
We'll also find out what happens – when Disney – meets Andrew Carnegie!
Disney Research Pittsburgh has a laboratory at Carnegie Mellon University – in which innovative designs are providing new applications for high-tech devices like smartphones and touchscreens. They call these designs – "acoustruments"!
Our guest is lab associate Eric Brockmeyer, from Disney Lab Research.
Both of these stories demonstrate the results of a concerted effort here, to transform the economy – from traditional manufacturing – to high-tech and robotics – and show the synergy between Carnegie Mellon and companies like Disney, which now have a research facility here.
Our final segment is with Mary McKinney, Ph.D. – Director of Duquesne University's Small Business Development Center (SBDC) and Douglas Harding – Director of that center's new, free program, to help some people transition from unemployed – to entrepreneur!
This program is being offered to qualified people in Allegheny, Beaver, Butler, and Lawrence counties – and is funded by the U.S. Small Business Administration's Portable Assistance Project.