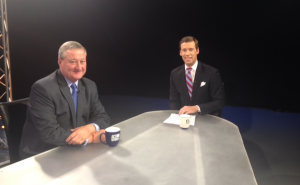 Every Friday afternoon, we provide a preview of the various Sunday morning political talk shows that are filmed and broadcast throughout the commonwealth.
Our hope is to alert readers to the important interviews and insights that each show in their region offers.
@Issue
NBC10-Philadelphia-11:30 a.m.
Host: Vai Sikahema
Topic #1: PA Medical Marijuana
Guests: PA State Sen. Daylin Leach, Dr. Charles Cutler, Chris Goldstein from PhillyNORML
Topic #2: Standardized Testing
Guest: West Chester Area School District Superintendent Dr. James Scanlon
Face the State
CBS21-Harrisburg-11:30 a.m.
Host: Rob Hanrahan
Senator Alloway at is on the show this week. We talks about pension reform and his new animal abuse bill. Tony Charlie and RJ Harris WHP 580 are on the program for commentary.
Inside Story
6abc-Philadelphia-11:30 a.m.
Host: Brian Taff
We have a whole half hour with Democratic Mayoral Candidate Jim Kenney on Inside Story this week. This is Kenney's first televised interview since his win in the Primary.
KD/PG Sunday Edition
CBS2-Pittsburgh-11:30 a.m.
On this week's broadcast – with KDKA-TV News Anchor Stacy Smith and Pittsburgh Post-Gazette Executive Editor David Shribman co-hosting — we'll be discussing this month's Pennsylvania Primary and Campaign 2015 – including former Pennsylvania Senator Rick Santorum's Presidential candidacy announcement, last Wednesday, in Cabot, Pennsylvania, Butler County.
Our guests are Philip J. Harold, Ph.D. – Associate Dean of the School of Education and Social Sciences, Associate Professor of Political Science, and Co-Director of the Honors program – at Robert Morris University – and KDKA-TV's Money & Politics Editor, Jon Delano.
Pennsylvania Newsmakers
WGAL Channel 8 (Harrisburg and Lancaster) Sunday, May 31st at 5:30 AM
Pennsylvania Cable Network, Sunday, May 31st at 4:30 PM
WBPH (Lehigh Valley and Philadelphia) Monday, June 1st at 8:30 PM
WKBS 47 (Altoona) Saturday, June 6th at 9:30 AM
WPCB 40 (Pittsburgh) Saturday, June 6th at 9:30 AM
This week's Pennsylvania Newsmakers features a discussion of the status of Pennsylvania hospitals and health care funding with Andy Carter, President of the Hospital & Healthsystem Association of Pennsylvania. Then, joining host Terry Madonna is Karen Rizzo, MD, President of the Pennsylvania Medical Society, to discuss combating prescription drug abuse and ways to increase the number of physicians in parts of the state. Link here.
The Sunday Business Page
CBS2-Pittsburgh-6:30 a.m.
This Sunday's show will be hosted by KDKA-TV's Money & Politics Editor, Jon Delano.
The Pittsburgh Zoo and PPG Aquarium – a worldwide leader in animal conservation efforts – this past week, honored a man who is helping to save the world's elephant population from extinction. We'll talk with Dr. Thomas Hildebrandt – who heads the reproductive management department at the Leibniz Institute for Zoo & Wildlife Research, in Berlin, Germany. We'll talk with him, along with Dr. Barbara Baker, President & CEO of the Pittsburgh Zoo & PPG Aquarium, about what's being done – in our area, and around the world – to increase the elephant population.
Our second segment features an interview with Pittsburgh Public Schools Superintendent Linda S. Lane, Ed. D. – about the critical role than philanthropic organizations are playing – to help fund vital programs for children, as state funding for education decreases. Those programs range from summer activities – to STEAM – science, technology, engineering, arts, and math. We'll also touch on new ways to deal with students with disciplinary problems, who have been expelled from school, and how to get them back into the school and education system.
Finally, a wonderful, inspiring story of twin girls, who, tragically, lost both of their parents, during the course of their high school education at Pittsburgh Allderdice (Taylor Allderdice High School), yet managed to qualify for the Pittsburgh Promise scholarship. Through assistance from the Zonta Club, will be able to attend California University of Pennsylvania. Our guests include the twin girls – Tiara and Tierra Travis – and Saleem Ghubril – Executive Director of the Pittsburgh Promise.