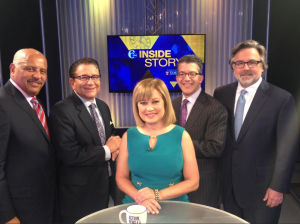 Every Friday afternoon, we provide a preview of the various Sunday morning political talk shows that are filmed and broadcast throughout the commonwealth.
Our hope is to alert readers to the important interviews and insights that each show in their region offers.
Face the State
CBS21-Harrisburg-8:30 a.m. (Rerun PCN-9:00 a.m.)
Our guest is Majority Whip Rep. Bryan Cutler. Tony May, Charlie Gerow and John Micek of the Patriot-News are here for commentary.
Inside Story
6abc-Philadelphia-8:30 a.m.
Host Monica Malpass and our Insiders give a 'Post Election Recap'. They discuss what the new Jim Kenney Mayoral administration will look like and what new ideas are likely to be instituted. Plus they discuss the new faces coming to City Council and how the Democratic Sweep of the PA Supreme Court will affect policy change in the region. Also on the topics table, Dwight Evans announcing plans to challenge Chaka Fattah's congressional seat and the legal issues for Chaka Fattah, Jr. and Attorney General Kathleen Kane. Catch the Inside Story.
Roundtable
George Burrell
Brian Tierney
Terry Madonna
Jeff Jubelirer
Journalists Roundtable
PCN-Harrisburg-8:30 a.m. (Rerun from Thurs.)
A historic Supreme Court election took place on Tuesday, Nov. 3, when three new state Supreme Court justices were chosen by voters, all Democrats, changing the majority of the court. Two other Democratic appellate court judges were also chosen, one on Superior Court and one on Commonwealth Court. These new members will serve 10-year terms. Also, a new Philadelphia mayor was elected, and a special election was held for an open state Senate seat. Panelists also discuss the upcoming 2016 election, the state budget impasse and the latest news on embattled Attorney General Kathleen Kane. Our guests this week are Melissa Daniels, staff reporter with the Pittsburgh Tribune-Review; Dave Davies, senior reporter with Philadelphia's WHYY-FM; and John Micek, Editorial & Opinions Page Editor with Pennlive & The Patriot-News. Our host is Francine Schertzer. Link here.
KD/PG Sunday Edition
CBS2-Pittsburgh-8:30 a.m.
This Sunday morning at 8:30 a.m. (new time, during the NFL Football season, on CBS and KDKA-TV), on the "KD/PG Sunday Edition", we'll hear from members of both the Republican and Democratic leadership in Pennsylvania's state house – about the budget impasse. Our guests include Rep. Mike Turzai (R) 28th Legislative District, including Marshall Township, who is also Speaker, and Rep. Frank Dermody (D) 33rd Legislative District, including Oakmont – who is also House Democratic Leader.
Why is it taking so long, to approve a state budget – and what are the stumbling blocks? When can we expect final approval of a budget? What is the future of Pennsylvania's State Stores, and their employees – in budget discussions?
Please join KDKA-TV News Anchor Stacy Smith and David Shribman, Executive Editor of the Pittsburgh Post-Gazette – for the "KD/PG Sunday Edition", Sunday morning at 8:30 a.m., on KDKA-TV.
Pennsylvania Newsmakers
WGAL Channel 8 (Harrisburg and Lancaster) Sunday, November 8th at 11:30 AM
Pennsylvania Cable Network, Sunday, November 8th at 8:30 AM
WBPH (Lehigh Valley and Philadelphia) Monday, November 9th at 8:30 PM
WKBS 47 (Altoona) Saturday, November 14th at 9:30 AM
WPCB 40 (Pittsburgh) Saturday, November 14th at 9:30 AM
This week's Pennsylvania Newsmakers features a special interview with Pennsylvania's Senior U.S. Senator, Bob Casey, who joins host Terry Madonna to discuss important foreign and domestic policy issues. Link here.
The Sunday Business Page
CBS2-Pittsburgh-6:30 a.m.
This Sunday morning at 6:30 a.m., on KDKA-TV's "The Sunday Business Page" – with KDKA-TV's Money & Politics Editor Jon Delano:
On this Sunday's broadcast, we'll talk about the growing impact of steel and aluminum imports into the United States from China – that may be responsible for the eventual destruction of much of America's manufacturing sector. U.S. Steel just reported a third-quarter loss much larger than originally anticipated – and lowered its financial expectations for the remainder of the year.
ALCOA – major aluminum manufacturer in the United States – cut back its production, and there is some likelihood that smelting plants in this country could be closed, next year, if the slump in the American aluminum industry continues.
In both cases, a glut of foreign raw product of steel and aluminum from China, is being blamed, to a large extent, for the decline in the American steel and aluminum industries.
What's being done, to address the challenge?
We'll talk with Kim Miller – Director of the United Steelworkers' Rapid Response Education Network – to find out what labor and management are doing – together – on the political front – to fight Chinese imports.
Then, we'll introduce you to the new CEO of the Pittsburgh AIDS Task Force – Sean DeYoung – and information from him, on how – after thirty years of operation – the Task Force is changing the way it delivers services to its clients. It will mark the largest expansion initiative in the organization's history.
Finally, a preview of the remainder of the 2015-2016 season of the Pittsburgh Opera – one of the most important jewels in Pittsburgh's cultural crown. Our guest is Christopher Hahn — General Director of the Pittsburgh Opera – with some thoughts on why it's so vital for opera to reach a younger audience – including children – for opera to survive, and thrive.
That's Sunday morning at 6:30 a.m., on "The Sunday Business Page", on KDKA-TV.