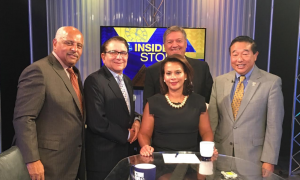 Every Friday afternoon, we provide a preview of the various Sunday morning political talk shows that are filmed and broadcast throughout the commonwealth.
Our hope is to alert readers to the important interviews and insights that each show in their region offers.
@Issue
NBC10-Philadelphia-11:30 a.m.
We have Neil Oxman, President of The Campaign Group, talking about the impact of political ads. We also have State Sen. Art Haywood, talking about his push for a bill that would create a state sponsored retirement savings plan for workers in Pennsylvania who don't have one through their employer.
Finally, Comcast Senior Executive V.P. David L. Cohen talks about a new expansion of Internet Essentials, a Comcast sponsored program that offers low cost home internet service and affordable computers along with educational support to low income families.
Face the State
CBS21-Harrisburg-11:30 a.m.
State Rep. Brian Sims of Philadelphia joins us on the show this week. We talk about the proposed anti-discrimination bill in PA and the presidential election. Tony Charlie and John Micek of the Patriot-News join in for commentary and analysis.
Inside Story
6abc-Philadelphia-11:30 a.m.
Hosts Tamala Edwards and the Insiders the discuss the aftermath of the first Presidential debate and how Pennsylvania heavily factors in the election. Plus how will Trump's comments/tweets on Miss Universe weigh in on the female vote. Other topics include the Philadelphia Parking Authority head resigns with a huge pension after a 2nd sexual harassment allegation surfaces, PA state Legislature upending current child sex abuse laws and NJ Governor Christie's response to Bridgegate trial testimony that he knew of the lane closures.

Roundtable
George Burrell
Dom Giordano
G. Terry Madonna
Jan Ting

Journalists Roundtable
PCN-Harrisburg-9:00 p.m. (Originally aired Thurs. 7:00 p.m.)
Journalists Roundtable is on the Road this week, in Williamsport at the offices of the Williamsport Sun-Gazette. Just days after the fall's first presidential candidate debate, Journalists Roundtable will talk about the issues the economic situation in Williamsport, natural gas production slow down, opioid and heroin abuse, open police records with regard to drug arrests, and the local economy with Bernie Oravec, publisher; David Troisi, Editor; and Anne Reiner, Reporter. Our host this week is Brian Lockman.
KD/PG Sunday Edition
CBS2-Pittsburgh-8:30 a.m.
This Sunday morning at 8:30 a.m., on KDKA-TV's "KD/PG Sunday Edition" – hosted – this week – by KDKA-TV News Anchor Ken Rice:

On this Sunday's program – we'll look at the state of the Presidential race, after last Monday night's televised debate between Donald J. Trump and Hillary Clinton – as well as the outlook for BOTH candidates, in Southwestern Pennsylvania – a key battleground area – in a key battleground state.

Our guests include Dave Majernik – Vice-Chairman of the Republican Committee of Allegheny County – who served as a delegate-at-large to the Republican National Convention – who supports Donald J. Trump – and the Honorable Pam Iovino – former U.S. Navy captain, and former Assistant Secretary for Congressional & Legislative Affairs, for the U.S. Department of Veterans Affairs, in the George W. Bush Administration – who is a supporter of Hillary Clinton's campaign. She also attended last Monday night's debate, at Hofstra University, in Hempstead, New York.

Please join Ken Rice – for this behind-the-scenes view of the Presidential race – Sunday morning at 8:30 a.m. – on the "KD/PG Sunday Edition", on KDKA-TV.
Pennsylvania Newsmakers
WGAL Channel 8 (Harrisburg and Lancaster) Sunday, October 2nd at 11:30 a.m.
WBPH (Lehigh Valley and Philadelphia) Monday, October 3rd at 8:30 p.m.
WKBS 47 (Altoona) Saturday, October 8th at 9:30 a.m.
WPCB 40 (Pittsburgh) Saturday, October 8th at 9:30 a.m.
This week's Pennsylvania Newsmakers features Bob Latham, Executive Vice President for Associated Pennsylvania Constructors, for a transportation update and to discuss pending legislation covering traffic speed in work zones. Then, Gene Barr, CEO of the Pennsylvania Chamber of Business and Industry, joins host Terry Madonna to discuss the upcoming election and his new book, "A Civil War Captain and his Lady." Link here.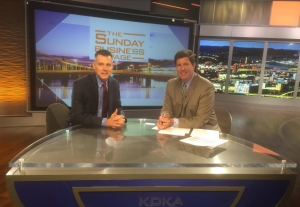 The Sunday Business Page
CBS2-Pittsburgh-6:30 a.m.
This Sunday morning at 6:30 a.m., on KDKA-TV's "The Sunday Business Page", with KDKA-TV Morning News Anchor Rick Dayton substituting for KDKA-TV's Money & Politics Editor Jon Delano:

On this week's broadcast:

For many years, Pittsburgh has been blessed with daily and Sunday print editions of both the Pittsburgh Post-Gazette and the Pittsburgh Tribune-Review. But, that's about to change, at the end of November. The Tribune-Review announced, this past week, that it is ending its Pittsburgh print edition – only providing print copies in Greensburg and Tarentum, Pennsylvania. The management of the Trib says the paper is going all-digital, in Pittsburgh, and will furlough more than 100-employees.

Our guest – former Tribune-Review investigative reporter Andrew Conte – now, Director of Point Park University's new Center for Media Innovation – talks with Rick Dayton, about the changing face of modern journalism, and the growing role of on-line subscriptions, and multi-tasking, multimedia journalists.

Then, the Pittsburgh region's seasonally-adjusted unemployment rate for August was 5.9% — higher than the national and state figures. Doug Heuck – Director of "Pittsburgh Today" – part of the University of Pittsburgh's Center for Social & Urban Research, which compares Pittsburgh's economy to other, comparable communities – and founder & editor of "Pittsburgh Quarterly" magazine, shares his thoughts on the reasons behind the jump in the local unemployment rate – including a slump, in the gas drilling business.

Finally, we'll introduce you to the co-founder and Vice-President of Research & Analytics, for "Fourth Economy" – about his local economic development firm – located on Pittsburgh's North Side – and how it works with clients like Riverlife and the Nine-Mile Run Watershed – to boost the economy and presence of those clients, in the marketplace.

Please join Rick Dayton, Sunday morning at 6:30 a.m., for "The Sunday Business Page", on KDKA-TV!