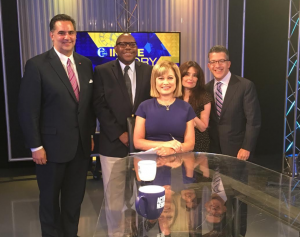 Every Friday afternoon, we provide a preview of the various Sunday morning political talk shows that are filmed and broadcast throughout the commonwealth.
Our hope is to alert readers to the important interviews and insights that each show in their region offers.
@Issue
NBC10-Philadelphia-11:30 a.m.
Rosemary Connors is the host. Our guest this week is Josh Shapiro the Democratic nominee for PA Attorney General.
Inside Story
6abc-Philadelphia-11:30 a.m.
Picture attached and blurb below.

Host Monica Malpass and the Insiders discussed the presidential candidates visits' to the Keystone State and what the polls say about who will win the battleground state. Other topics include how ticket-splitting will affect the PA Senatorial race and how one Attorney General candidate has shattered local fundraising goals. Governor Christie's approval rating amid the Bridgegate trial and what are next steps and solutions to the on-going issues between African-Americans and law enforcement spurning protest in this country. Catch the Inside Story…Sunday at 11:30 a.m.

Roundtable
Harold Jackson
Christine Flowers
Rich Negrin
Jeff Jubelirer
KD/PG Sunday Edition
CBS2-Pittsburgh-8:30 a.m.
This Sunday morning at 8:30 a.m. (NEW TIME!), on KDKA-TV's "KD/PG Sunday Edition" – with KDKA-TV News Anchor Ken Rice and David Shribman, Executive Editor of the Pittsburgh Post-Gazette:

On this week's broadcast – the reality of fighting terrorism – both, at home, and abroad. The latest terror incidents – both bombings, and bombing attempts —  took place, a week ago – in New York's Chelsea section of Manhattan, and in  Seaside Park and Linden, New Jersey. The suspect – Ahmad Khan Rahami – was arrested, after a shootout, in Linden, New Jersey.

What is the state of domestic and foreign terrorism – and what's being done – here – and abroad – to monitor the activities of suspected terrorists? We'll ask Michael Kenney, Ph.D. – Associate Professor of International Affairs, at the University of Pittsburgh's Graduate School of Public and International Affairs (GSPIA) and Colin P. Clarke, Ph.D. – political scientist, at  the RAND Corporation, in Pittsburgh. Both men are also affiliated with the University of Pittsburgh's Matthew B. Ridgway Center for International Security Studies.

Don't miss this important, and timely discussion – Sunday morning, at 8:30 a.m. (new time!), on the "KD/PG Sunday Edition", on KDKA-TV.
Pennsylvania Newsmakers
WGAL Channel 8 (Harrisburg and Lancaster) Sunday, September 25th at 11:30 a.m.
WBPH (Lehigh Valley and Philadelphia) Monday, September 26th at 8:30 p.m.
WKBS 47 (Altoona) Saturday, October 1st at 9:30 a.m.
WPCB 40 (Pittsburgh) Saturday, October 1st at 9:30 a.m.
This week's Pennsylvania Newsmakers features Charles Cutler, MD, President-Elect of the Pennsylvania Medical Society, and Gary Tennis, Secretary of the Pennsylvania Department of Drug and Alcohol Programs, who discuss the state's opioid epidemic. Then, joining host Terry Madonna are Robert Swift off Times-Shamrock Newspapers, and Marc Levy of the Associated Press, for an update on the biggest political and governmental stories of the week. Link here.
The Sunday Business Page
CBS2-Pittsburgh-6:30 a.m.
This Sunday morning at 6:30 a.m., on KDKA-TV's "The Sunday Business Page" – with KDKA-TV Morning News Anchor Rick Dayton substituting for KDKA-TV's Money & Politics Editor Jon Delano, who is on assignment, this week:

It's what the Federal Reserve decided NOT to do, at its policy meeting, that made news, this week – keeping short-term interest rates – unchanged – for the time being. However, the Fed said that the case is "strengthening" – for an interest rate hike – possibly,  before the end of the year.

What will that mean – for investors and borrowers? We'll hear analysis, from Rick Applegate, AIFA, CFP – Partner – in the Pittsburgh office of Cantor Fitzgerald Wealth Partners. He's also a contributor to the Newsradio 1020 KDKA Morning News. We'll ask Rick about the differences in economic policy – between Republican Donald J. Trump and Democrat Hillary Clinton – who will be squaring off, in their first political debate, on Monday night.

Then, Pittsburgh Life Sciences Greenhouse – is helping an amazing, young entrepreneur launch a business that could help save the lives of those suffering a stroke. The entrepreneur is Matthew Kesinger – Founder and CEO of Forest Devices – which has developed a way to cut down the time between diagnosis of a stroke – and the application of emergency medical treatment. AlphaStroke – Forest Devices' invention — is the brainchild of Kesinger – who is still a graduate student, at Carnegie Mellon University's Heinz College – and who temporarily left his medical school studies – to learn the business aspects of the healthcare delivery system. Our guests include Kesinger, Jackie Speedy – Associate Dean for Public Policy and Management at CMU's Heinz College, and Jim F. Jordan – Vice-President and Chief Investment Officer, at Pittsburgh Life Sciences Greenhouse – which is granting Forest Devices $50,000 – for its start-up business and stroke diagnosis product.

Finally, three brothers – who created unusual pickles, to serve, at their restaurant and bar – decided to go into the pickle business, several years ago. Now, the Pittsburgh Pickle Company – which produces its products in the kitchen of a church, in Verona, Pennsylvania – is moving operations to a bigger location, in that town – a former macaroni company building. We'll introduce you to John and Will Patterson, and Joey Robl – all brothers, and co-owners of the Pittsburgh Pickle Company.

Please join Rick Dayton – Sunday morning at 6:30 a.m. – for "The Sunday Business Page", on KDKA-TV!