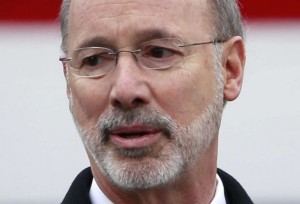 The argument over executive appointments by departing political officials is old as Adams and Jefferson.
Today, a new chapter (at least for Pennsylvania) was written.
The Pennsylvania Supreme Court ruled in a 3-1 decision that Director of the Office of Open Records Erik Arneson could not be fired without cause.
Arneson had been appointed by Gov. Corbett in his final days only for Gov. Wolf to rescind the appointment once he assumed office.
This led to a lengthy court battle between the Governor and Arenson that has now finally been resolved.
"The Office of Open Records absolutely must be independent to function properly, and I am thrilled that the court agreed," Arneson responded. "I'm excited to continue working as executive director. We have an outstanding team over here."
Senate President Pro Tempore Joe Scarnati and Senate Majority Leader Jake Corman also issued a statement in support.
"Today's Supreme Court ruling is a tremendous victory for ensuring government transparency and accountability in our Commonwealth. This case was originally filed in an effort to uphold the intent of the Open Records Law and establish a definitive independence between the Office of the Governor and the Office of Open Records.
"The outcome of this case is an important victory for government transparency and an important reminder to the Governor of the legislature's role. At the same time, it is disappointing that Governor Wolf spent such a significant amount of time and resources trying to prevent the independence of the Office.
"Despite being faced with enormous adversity, Erik Arneson has served as an outstanding Executive Director of the Office of Open Records and should be commended for his resounding work ethic on behalf of the people of Pennsylvania. I am fully confident that Erik will fulfill the remainder of his six-year term with drive and dedication."
Governor Wolf's spokesman Jeffrey Sheridan issued the following response:
"The Wolf Administration looks forward to working with Mr. Arneson to promote transparency. Governor Wolf has already taken many steps to ensure government is ethical and open to the public including enacting a gift ban, reforming legal contracting, releasing his calendar each week and posting cabinet expenses online. The governor will continue to look for ways to increase openness in government."
The majority opinion, written by Justice Max Baer and joined by Justices Michael Eakin and Thomas Saylor, can be read here. Justice Debra Todd's dissenting opinion can be read here.