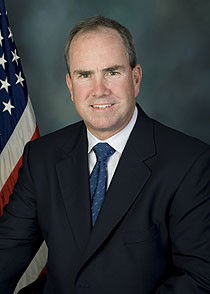 At long last the leadership struggle among Philadelphia Republicans appears to be over. Today Pa. Republican Party Chairman Rob Gleason announced that state Rep. John Taylor was unanimously elected as Chairman of the Philadelphia Republican City Committee.
A Gleason said in a press release, "I congratulate Representative Taylor on his election and look forward to working with him to build a strong and vibrant Republican Party in the city of Philadelphia. Chairman Taylor will be a smart, tough and effective leader who will help to showcase the Republican Party as a place for commonsense reforms for Philadelphia citizens."
Taylor's election comes in the wake of the resignation announcement earlier this month of Vito Canuso, who had served as chair since 1995.
The smooth transition is in marked contrast to the struggle over the party leadership since 2010 when Canuso's re-election was ruled invalid by the state Republican party led by Gleason. Canuso's opponents went as far as to elect finance consultant Rick Hellberg chairman in 2011.
Canuso represented the old guard of the party, Hellberg a group of younger reformers. Both men claimed to be the rightful chair – until now.
Gleason, along with Gov. Tom Corbett, Sen. Pat Toomey and others have quietly been pushing in favor of reformers in the city. The statewide GOP establishment has been frustrated with perceived complacency by the city party, to which they attribute in part Democrats' growing margins out of Philly.
This split appears, however, to finally be on the mend. Taylor has the backing of both Canuso and Hellberg.
Taylor has been a prominent figure in the GOP House caucus by maintaining his seat through fifteen elections despite serving a heavily Democratic district. In fact, Taylor is the only Republican state legislator in Philadelphia.