By Meghan Schiller, Contributing Writer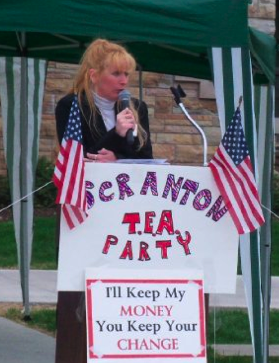 Laureen Cummings has shown no hesitation when sharing her strong opinions on the debt crisis and other national issues. The founder of the Scranton Tea Party, who is mulling a run against Bob Casey in 2012, submitted an op-ed this week to the Delaware County Daily Times entitled "Casey, Dems provide no solutions to debt."
"On Dec. 19, 1779, Thomas Paine wrote 'The American Crisis, No.1.' It is in this document that his now famous words were written: 'Lead, follow or get out of the way,'" Cummings wrote.
"I believe it's time for Bob Casey to follow Thomas Paine's advice and "get out of the way."
Aside from the fact that 'American Crisis, No.1' was written in 1776 and doesn't contain that quote, the op-ed is a valiant effort to suggest that our founding father, Thomas Paine, would side with the Tea Party against our senior Senator.
Cummings argued that "it is obvious the Republicans are doing their best to provide Americans with reasonable solutions to our debt crisis. House Speaker John Boehner, R-Ohio, and the Republicans in the House of Representatives have drawn up several approaches to the debt ceiling crisis that will lead to spending cuts and ultimately a balanced budget."
Cummings believes that Casey offers no solutions to the debt issue, and wishes to obstruct the process.
Casey vote in favor of the recent debt ceiling compromise, which includes plans to cut over $2 trillion from the federal budget over the next ten years.