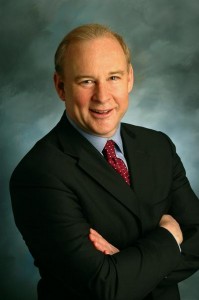 Mere days after finally officially declaring his entry into the gubernatorial race, State Treasurer Rob McCord won the backing of the Teamsters union. The endorsement is the first major piece of news from the McCord campaign since he announced his candidacy earlier this week.
"State Treasurer Rob McCord knows what working families in Pennsylvania are going through because he's been there," wrote Teamsters President William Hamilton in a letter that was sent to all the state's members. "He's experienced the kind of economic insecurity that Tom Corbett is causing so many Pennsylvania families to feel today, so we know Rob will fight for us."
"We're proud to endorse Rob McCord for governor and we look forward to standing with him, shoulder to shoulder, to get the job done and we will have our boots on the ground."
"I'm proud to receive the valuable, powerful support of the Pennsylvania Conference of Teamsters," said McCord in a press release. "When I announced I was running for governor, I promised that I would invest in Pennsylvania's working families again, and this endorsement is a signal that we're on the right track. I look forward to working with the Teamsters to evict Tom Corbett."
The Pennsylvania Conference of Teamsters claims a constituency of approximately 95,000 members, making them one of the largest unions in the Commonwealth. The organization is the state branch of the International Brotherhood of Teamsters.
The other Democratic candidates for Governor include former DEP Secretaries John Hanger and Katie McGinty, Allentown Mayor Ed Pawlowski, Congresswoman Allyson Schwartz, and former Secretary of Revenue Tom Wolf.
Current front-runner Rep. Allyson Schwartz has received the backing of the state chapters of the United Mine Workers and the Sheet Metal Workers. Katie McGinty has also been endorsed by Local 85 of the Amalgamated Transit Union and is being personally backed by Pat Gillespie the long-time Business Manager of the Philadelphia Building and Construction Trades Council.