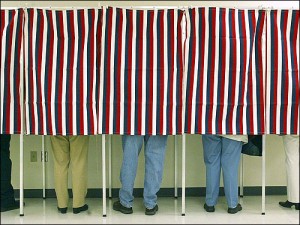 On Sunday, we asked ten questions about the upcoming primary election. It only seems fair to use yesterday's results to answer those queries.
The Democratic Party Followed Its Leader
The support of President Barack Obama still means quite a lot in a Democratic primary.
Besides the presidential race, where Hillary Clinton is widely considered Obama's favorite, the President also saw his personal choices emerge victorious in down ballot races.
Katie McGinty's late surge perfectly coincided with her endorsement from the President which she made sure to advertise heavily. Pres. Obama also reached out to long-time friend Josh Shapiro in his successful run for the Democratic nomination Attorney General.
Both candidates ran up large margins in Philly suggesting the President's support had a large effect there.
The Democrats Finally Defeated Joe Sestak
We mean that quite literally, as it took an Avengers-like team-up to bring the indefatigable ex-Admiral down.
As mentioned above, President Obama endorsed McGinty. Vice President Biden and Senator Casey campaigned for her down the stretch. Governor Wolf and every prominent Democratic official in PA supported her (not to mention all the national Democrats, including powerful legislators like Harry Reid and Chuck Schumer).
In the end, though, it may have been John Fetterman who truly brought down Sestak.
The Braddock Mayor surprised many by outperforming his polls and pulling in 20%. Fetterman split the outsider vote and did extremely well in western PA (he even won Allegheny County).
Even Joe Vodvarka did his best to take down Sestak after that whole ballot issue.
As the Inquirer's Maddie Hanna noted, Sestak left the stage after his concession speech to Frank Sinatra's "My Way". A fitting departure for the iconoclast.
The Unbound Republican Delegates Are Likely to Be Trump Supporters
One of the biggest questions marks coming into Tuesday was what would the 54 unbound Republican delegates do?
Well, by our own count 32 of them are Trump supporters while just three back Ted Cruz. Additionally, another nine said they would go with the winner in their district. Of course, Trump won almost all the districts yesterday.
At this moment, PA's unbound delegates look more likely to help Trump reach the 1,237 nomination threshold than they are to deny him a first-ballot win at the convention.
Hillary Beat Donald
Not really, but when it came down to who got more votes, Secretary Clinton finished with 913,654 while Mr. Trump received 888,578.
Sure, Democrats have higher voter registration numbers than Republicans but Rust Belt states have been a central component of the argument that Trump can defeat Clinton in a general election.
It also contributes to one of Hillary's favorite talking points as she has now received 12.13 million votes compared to Donald's 10.05 million.
Pennsylvania Ended the Democratic Presidential Primary…Sort Of
Pennsylvania was not Clinton's only victory on Tuesday.
She also won Maryland, Connecticut and Delaware while Sanders just took Rhode Island. More importantly, Clinton gained a net of 64 pledged delegates.
Last night, Bernie Sanders pledged to fight "until the last vote is cast" but seemed more focused on affecting the party's platform than taking the nomination. Then this afternoon, it was revealed that his campaign is letting go of hundreds of staffers.
So, as we predicted, Sanders will continue running but any remaining drama is pretty much gone.
Bernie's Revolution Never Came…
"I just don't know enough about John."
That was Sanders' response when asked why he hadn't endorsed John Fetterman, the man who had already endorsed him.
That moment perfectly epitomized the Vermont Senator's central weakness. He wants to lead a revolution, but he doesn't know how to build a network of support.
Looking at the results, it's quite possible that Fetterman would've had a real chance if he got a Bernie boost early on.
…But Hillary's Might
In her victory speech, the newly-minted Democratic nominee Katie McGinty made her general election strategy crystal clear.
She used the phrase "Trump-Toomey" seven times, signaling that she will try to nationalize this race as much as possible. Given the GOP front-runner's comments about women, moreover, "Hillary-Katie" might be quite appealing to female voters.
This is particularly damaging for Sen. Toomey as he has made a conscious effort to reach out to female moderates (his background check bill is the most prominent example) while assuming his base will follow him. With a presidential nominee like Trump, however, the base will become more agitated and a polarized electorate in November would be bad for a Republican incumbent in a blue state.
Philly's True Power-Broker
Despite all the hype, John Dougherty doesn't appear to be the all-powerful political boss his critics make him out to be.
Amid allegations of a deal to get Stephen Zappala the AG Democratic nomination, Dougherty went so far as to release a letter defending himself (and advocating for his candidate).
It didn't work, though, and not even the help of Bob Brady mattered as Shapiro ran up the score in Philadelphia.
Obviously the support of President Obama and Governor Rendell was important, but one also has to wonder if perhaps City Council President Darrell Clarke is the real power-broker in the City of Brotherly Love.
Fattah Falls
Chaka Fattah is the first incumbent Congressman to lose in a primary this year. Twenty-nine indictments will do that to you.
Long-time State Rep. Dwight Evans emerged victorious, finally getting an electoral promotion after several different attempts.
Turns out the voters in PA-2 wanted an experienced politician, just not one embroiled in scandal.
Shuster Survives
At last we come to Congressman Bill Shuster.
For a moment last night, it looked like those stories about his relationship with an airline lobbyist might lead to his downfall.
Shuster hung on, though, ultimately prevailing by just 1,009 votes. After a night like that, he may be the happiest one of all that primary season is over.