Based on our observations, your submissions, and conversations with Pa.'s top politicos, here is PoliticsPA's list of the best and worst ads of 2012.
The criteria are somewhat subjective. In some cases, a piece stood out because it was inherently well done, aesthetic, or clever. In other categories, a piece won simply by being effective – making the difference for its campaign.
These are ads from the 2012 general election; you can see the best and worst primary ads here. We also kept out presidential campaign ads, as few (if any) were made specifically for Pa.
Best TV Ad Overall
"Alice & Alice"
Keith Rothfus for Congress, PA-12
Produced by The Strategy Group for Media
The race for the 12th congressional district was perhaps the most contested Pa. race of 2012. Outgoing Rep. Mark Critz ran a superb ad campaign in the primary, but was outshone in the general. Observers credit this ad with sealing the deal for Keith Rothfus. The spot, which was Rothfus's idea, helped humanize the Republican and defend against the charge that he'd be a threat to Medicare.
Worst TV Ad Overall
"Backpack"
Against Kathleen Kane for Attorney General
Paid for by the Republican State Leadership Committee
This one wins the 'backfire of the year' award. The RSLC accused Kane of going soft on a rapist among other charges, and her campaign fired back immediately and effectively. The father of the rape victim referenced in the ad strongly rebuked the RSLC and GOP candidate Dave Freed. FactCheck.org called it "nonsense." The ad also forced Freed into a lose-lose situation (he and Gov. Corbett had repeated prior contact with RSLC, so Freed refused to condemn the spot – a major unforced error on his part). Freed never recovered.
Don't get us wrong – launching muddy, tenuous attacks is part of politics. But to do so in the middle of September? Next time, give your opponent less time to respond by saving it for the last week.
Best TV Ad, Positive
"Regular Guy"
Keith Rothfus for Congress, PA-12
Produced by The Strategy Group for Media
This was Rothfus's opening salvo of the fall campaign, and it succeeded in boosting his name ID to credible levels early (a key in attracting outside national money to the race). It also pre-empted the inevitable 'out of touch' attacks that millionaire Rothfus was certain to face. It's a good mix of clever and effective.
Honorable Mention, TV Ad, Positive
"Ryan"
Bob Casey for Senate
Produced by Casey 2006 media alums at the firms of Shorr Johnson Magnus, Putnam Partners, and Murphy Vogel Askew Reilly.
This emotional spot helped to slow Casey's early October polling slide. After weeks facing charges that the Senator was ineffective – and a somewhat lackluster TV campaign to defend him – Casey's team rolled out this gem.
Best TV Ad, Contrast/Negative
"Invisible Senator"
Tom Smith for Senate
Produced by SRCP Media and Cold Spark Media
This is the ad that put Smith on the map and Casey on the national GOP target list. It was their first ad reflecting the fact that Barack Obama wasn't a significant drag on Casey, and it honed to perfection Republicans' (admittedly short) list of non-Obama complaints against him.
Honorable Mention, TV Ad, Contrast/Negative
"Bank"
Larry Maggi for Congress, PA-18
Produced by Murphy Vogel Askew Reilly
In retrospect, it's clear that Rep. Tim Murphy (R-Allegheny) was never in a vulnerable position despite a credible opponent in Maggi. The jewel of Maggi's campaign was this spot, which present Dems' Medicare attack more effectively than any candidate in Pa. in 2012. Funny, catchy, and sharp. Wonder what would have happened if Mark Critz had run this ad.
We also liked Kathy Boockvar's ad "Right Fit," which compared Rep. Mike Fitzpatrick (R-Bucks) to an ill-fitting shirt.
Weirdest TV Ad
Eugene DePasquale for Auditor General
Produced by Bud Jackson
We're not sure how much this ad and DePasquale's relatively light buy contributed to the final result of the Auditor race – the narrowest of the statewide campaigns. But we can say, unequivocally, that the dancing fireman makes this the weirdest ad of the season.
Best TV Ad in a Local Campaign
The 15th district race was the most-watched state Senate contest in Pa. in 2012, and both candidates had a few strong ads. Ultimately Democrat Rob Teplitz defeated Republican John McNally.
Rob Teplitz, "Claim"
Produced by Devine Mulvey
This ad permanently established the number one issue of the campaign: education funding. In a single spot Teplitz took advantage of the wide perception that recent Republican budgets have devastated education and caused property tax increases. It precipitated a highly defensive response ad from McNally.
John McNally, "Red Ink"
Produced by Red Maverick Media and GK Visual
McNally's team put Teplitz on his heels about past support for a commuter tax, a subject anathema to voters in the suburbs around Harrisburg. It was a good play – McNally stood little chance of making a dent among city voters anyway – but too late to change the outcome of the race.
Worst TV Ad in a Local Campaign
Jim Billman for HD-126
"Traditional Marriage"
Produced by VideoWorks Production Company
Billman was always a long shot (he lost to Rep. Mark Rozzi by 40 points), but the Tea Partier stayed clear of the GOP's economic strong suit in a limited ad buy in the Reading-based district.
Best Third Party TV Ad
"Which Critz"
Anti-Mark Critz, PA-12
Paid for by the National Republican Congressional Committee
It was tough to hit Critz along normal partisan lines; he spent 2 years in DC expertly walking the southwest Pa. Democratic line. This ad helped to turn Critz's political flexibility into a liability.
Worst Third Party TV Ad
Anti-Toohil Ad
HD-116
Paid for by the House Democratic Campaign Committee
This is a spot where the context of the ad matters more than substance. Hoping for a hail mary pass, the House Dems decided to drop $100K on this ad against freshman Republican Tarah Toohil. The problem? A total lack of any polling to suggest the ad would have any impact. It didn't; Toohil won by 35 points. Meanwhile a handful of other Dems lost close races.
Best Web Video
"Gene Stilp Can Take the Heat"
Gene Stilp for Congress, PA-11
Produced by Scott Cannon of videoinnovations.com
Stilp ran a quirky, off-the-wall campaign against Rep. Lou Barletta (R-Luzerne), and this video is a good example. Fun fact: Stilp, a volunteer firefighter, owns the $5,000 fire suit he wears in the spot.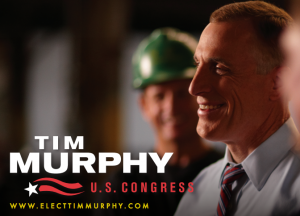 Best Direct Mail, Positive
"Coal"
Tim Murphy for Congress, PA-18
Produced by Cold Spark Media
View the entire mailer here.
Murphy added Greene County in the latest round of redistricting. Voters in his portion of the county are registered 58 percent to 34 in Dems' favor. This piece, which gets at the heart of the region's coal roots, helped Murphy win the county nearly 2 to 1.
Best Direct Mail, Negative/Contrast
"Termination Notice"
Pennsylvania State Education Association, SD-15
Produced by The WS Group
View the entire mailer here.
Again, the constant emphasis on education funding as a campaign issue doomed McNally in SD-15. The PSEA's mailer to members is beautifully direct.
.
.
.
.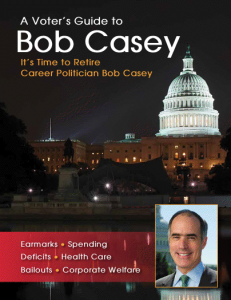 Worst Direct Mail
"A Voters Guide to Bob Casey"
Paid for by FreedomWorks for America
View it here.
This makes the list because it hurts our hearts to imagine the cost-per-read of the 42 page behemoth. It's hard enough to imagine most voters reading the front and back of a single flier (one of which costs tens of thousands to send statewide). This was a glossy, magazine-sized guide to all the times Casey voted with Democrats.
Editor's note: we eliminated the radio categories due to a dropoff in nominations.