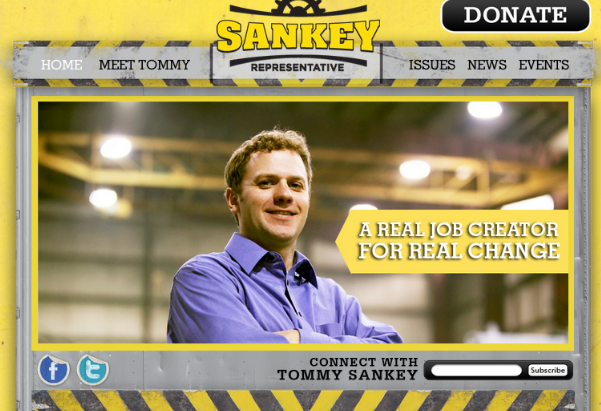 We've looked and looked, clicked and clicked, and here are the best campaign websites and social media accounts in PA.
Campaigns (and campaign ads) are increasingly moving online, and an aesthetic, easy to navigate website is a must have for serious candidates at all levels.
Here are the sites that stand out.
Best Website for a Statewide Candidate
Kathleen Kane for Attorney General
It's tough to pick the best website from among the 8 candidates for statewide office. They're mostly similar, and similarly good.
Kane's site is sleek, visually engaging and comprehensive. It's well-maintained and compliments her social media efforts. What puts it over the top is the prominence of her "PSU Scandal" page. No issue will play bigger in this race than Sandusky case, and given her resume, it's already a natural boost for her. The site best emphasizes her strengths.
Runner up: Tom Smith for Senate. His main site is solid, and his ancillary policy site does a good job making long chunks of text appear aesthetic.
Best Use of Social Media
Gene Stilp for Congress (Facebook, Twitter)
(D-Dauphin). Success in this category requires a candidate to engaging without being incessant, and Stilp strikes the right balance.  He's a candidate made for social media. A quirky, good government gadfly, he's best known for his enormous pig props. But he also has an avid online presence and uses it effectively to engage supporters, build crowds, and publicize events. He's turned social media into regular earned media, too, in this news report on Fox43. He faces Rep. Lou Barletta (R-Luzerne).
A shoutout also to Sen. Pat Toomey, whose campaign facebook page has more followers than any other in PA – nearly 20,000. As far as this cycle, Tom Smith's facebook page has the most social media followers at 12,411.
Pa. Sen. Daylin Leach (D-Montco) wins most entertaining social media account for his facebook page.
Best Website for a Congressional Candidate
(R-Butler). Few sites pop like Kelly's does. The first term freshman Republican hasn't been shy about national media appearances, and he puts them to work effectively in the state's most visually appealing campaign website.
Runner up: Kathy Boockvar for Congress (D-Bucks). The site looks good and it's easy to navigate.
Best Website for a State Senate Candidate
(R-Dauphin). The site looks sharp, the issues section is tight, and he even lists his tax returns from the past 5 years!
Runner up: Sen. Daylin Leach (D-Montco). Leach keeps an active online presence via social media, and his website serves a good home base for his many online fans.
Best Website for a State House Candidate
(R-Clearfield). Can you guess what line of work Sankey is in? This is one of the top open seat races in the state this year, and this website does everything right. Its crisp design reinforces the candidate's message and it has the right amount of media vs. text. This site is congressional or statewide calibur.
Runner up: Dave Kralle (R-Phila). His site was built for a special election in April, but it's still sharp. Rep. Warren Kampf (R-Chester). He's not one of those incumbents who let campaign websites slip by the wayside. Clear and well laid out.