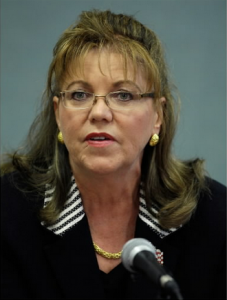 Former state Supreme Court Justice Joan Orie Melvin was sentenced to 3 years of house arrest on Tuesday.
She must also write a letter of apology to every judge in Pennsylvania, KDKA reports. She must subsequently have 2 years of probation.
She was convicted in February on 6 of 7 counts related to misuse of official resources for campaign purposes.
Her sister and co-conspirator Janine Orie was sentenced to 1 year of house arrest and 2 of probation. The two may leave their homes only to attend church.
It's a relatively lighter sentence than that received by their sister, former state Senator Jane Orie (R-Allegheny). She was convicted on similar grounds and is serving 2 and a half to 10 years in prison.
Gov. Tom Corbett has less than 90 days to name Orie Melvin's replacement on the Supreme Court. The nominee will require a two-thirds vote in the state Senate, meaning Corbett will have to win over at least 7 Democrats.
In the meantime, the Court remain at a tie between its 3 Democratic and 3 Republican members.
Orie Melvin was elected in 2009. Her successor will serve for roughly two years; the vacancy will be filled during the 2015 election.