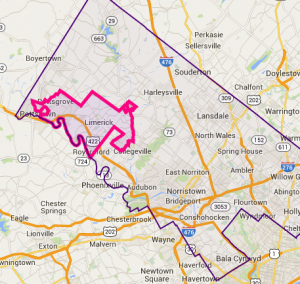 With so much attention being paid to the Gubernatorial and State Senate contests it can be easy to miss the competitive State House races.
At the moment, Republicans hold a 111 to 92 vote majority and it is extremely unlikely the Democrats will be able to pick up the ten seats necessary to takeover the lower chamber.
The redistricting process had a much larger impact on the House than the Senate, though, so we may still see some turn over. As a result, Democrats are planning on a major push in 2016 but only if they have success this year.
We've narrowed the landscape down to the top fifteen races.
Each district has been ranked by the likelihood it will switch parties, starting with the least likely.
14. HD-115: Maureen Madden (D) vs. David Parker (R) – Monroe County
Another newly created open seat. The district, however, favors the Democrat. Still, Republicans like their candidate and think they have a shot.
13. HD-48: Rep. Brandon Neuman (D) vs. Sonia Stopperich (R) – Washington County
Neuman ran for Lieutenant Governor earlier this year which gave the GOP some hope they could pull a sneak upset in the aftermath. If Rep. Neuman goes down, though, it means the Republicans are having a good night.
12. HD-145: Karen Chellew (D) vs. Craig Staats (R) – Bucks County
This seat belonged to retiring Rep. Paul Clymer. It's a Republican district but is not completely out of the reach of Democrats.
11. HD-58: Rep. Ted Harhai (D) vs. Thomas Logan (R) – Westmoreland County
State Rep. Harhai has extensive experience and deep ties to the community but the district is trending Republican. For example, Mitt Romney won the district with 56% in 2012. The GOP feels that with enough effort they can finally turn this seat.
10. HD-74: Harry Lewis (R) vs. Josh Maxwell (D) – Chester County
Another open seat, relocated from central PA during redistricting. It was drawn in an effort to keep Chesco Dems concentrated in one area and out of the neighboring seats represented by GOP incumbents.
9. HD-176: Jack Rader (R) vs. Hope Smith (D) – Monroe County
This is a newly created open seat comprising areas that once belonged to Rep. Mario Scavello, who is running for State Senate this year. The Republican is favored, but as a fresh district with two first-time candidates, this could make for an unexpected result on Election night.
8. HD-161: Rep. Joe Hackett (R) vs. Leanne Krueger-Braneky (D) – Delaware County
This is yet another Southeast PA district, although it was significantly redrawn in order to secure the seat for Hackett. Krueger-Braneky is depending on some Wolf coattails to pull her over the finish line.
7. HD-52: A.J. Boni (D) vs. Ryan Warner (R) – Fayette, Westmoreland Counties
This seat is open thanks to the State Senate candidacy of incumbent Deb Kula. Therefore, the result in this district will likely mirror the results in the SD-32 race. This is a Democratic area in registration but it is also very rural and trending Republican. For example, Romney won the district with 59% two years ago.
6. HD-102: Russ Diamond (R) vs. Jake Long (D) vs. Robert McAteer (I) – Lebanon County
This may be the strangest race of the night. Good government activist Russ Diamond found himself in an embarrassing episode this week and has never been the favorite of establishment Republicans. Instead they're backing McAteer, which could give Long a shot. Plus it's an open seat, with Rep. RoseMarie Swanger retiring. Finally to top it all off, write-in candidate Wanda Bechtold, the woman who lost to Diamond in the GOP primary, could have a significant effect on the result. This is sure to be an entertaining race to watch on Tuesday night.
5. HD-46: Rep. Jesse White (D) vs. Jason Ortitay (R) – Allegheny, Washington Counties
This race, possibly more than any other, revolves around the personality of the incumbent. Rep. White has been through a number of personal scandals over the last few years, including writing anonymous attacks online – and that's not the only thing. Republicans feel he's dug his own grave but the jury is still out on this race.
4. HD-157: Rep. Warren Kampf (R) vs. Marian Moskowitz (D) – Chester, Montgomery Counties
Another SEPA district that Democrats are hoping to win over. President Obama won the district in 2012 yet so far Rep. Kampf has been able to survive. Moskowitz wants to be the one to finally flip this seat.
3. HD-83: Rep. Rick Mirabito (D) vs. Jeff Wheeland (R) – Lycoming County
This district is a prize the Republicans have been trying to win for years now. It's the most Republican district held by a Democratic but some combination of circumstances has always get it out of their hands. This would be a sweet victory for them.
2. HD-163: Vincent Rongione (D) vs. Jamie Santora (R) – Delaware County
One of the more intensely contested districts in the entire Commonwealth, it is the seat of retiring Rep. Nick Micozzie. Almost half of the district is new, however, so it is difficult to predict how it will go. The GOP has the structural advantage yet Rongione has been aggressive in fundraising and in drawing attention. Most recently, the Delaware Republican Party is challenging Rongione's residency. This will definitely be a race to keep an eye on Nov. 4th.
1. HD-146: Rep. Mark Painter (D) vs. Former Rep. Thomas Quigley (R) – Montgomery County
Here we have a good old-fashioned rematch. Quigley held this seat for four terms until Painter defeated him in 2012. This was the only district where a Democrat beat a GOP incumbent in that cycle. Will Quigley get revenge or will Painter emerge victorious again?
*HD-81: Rep. Mike Fleck (R) vs. Richard Irvin (R) – Huntingdon, Centre, Mifflin Counties
This is the one race where party control can't flip – but it may garner the most headlines when all is said and done. Rep. Fleck made history by becoming the first openly gay lawmaker in PA history. He lost the GOP primary in this deep red conservative district but won the Democratic nomination as a write-in – though he pledges to caucus as a Republican if re-elected. His opponents' supporters have made the race a thinly veiled referendum on Fleck's sexual orientation including some ugly attacks. This will be a noteworthy result no matter who wins.