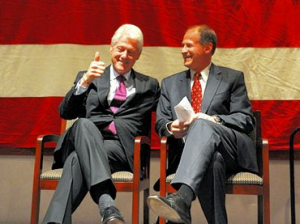 The most popular Democrat in Pennsylvania will appear in Beaver to boost Mark Critz in his tough re-election battle. Former President Bill Clinton will headline a rally for the Congressman on Thursday.
Critz's campaign says the rally will happen in the evening at the union hall of the International Brotherhood of Electrical Workers Local 712.
"President Clinton's record of creating jobs while balancing the budget is something that I try to emulate in Congress and I am honored to have him campaign for me," Critz said.
He added that he hoped to benefit from Clinton's reputation.
"There is no public figure as popular and respected in Western Pennsylvania as President Clinton. Having him in to campaign with me is a major boost for my campaign."
Critz is from Johnstown and Republican challenger Keith Rothfus is from the North Hills of Allegheny County, making Beaver County the battleground of the 12th district.
Clinton has been a longtime ally to Critz and his predecessor, the late Rep. John Murtha. His endorsement in the Democratic primary in April helped to propel Critz to a victory over Rep. Jason Altmire, just as a Clinton rally in Johnstown in 2010 helped Critz to secure a special election win.
The former President is among the most popular political figures in the nation and Critz's camp said his approval rating is in the 70s in the 12th district.
It will be Clinton's second trip to Pa. this week; he's appearing in Philadelphia on Monday to rally for Attorney General Kathleen Kane.
Rothfus's campaign criticized Clinton at length, saying the former President's advocacy for Obama has undermined his credibility.
"Unfortunately, Bill Clinton is no longer the President we remember. The Bill Clinton we remember would never have personally nominated President Obama for a second term, leaving Americans with a future of continued high unemployment and skyrocketing national debt," said Rothfus Campaign Manager Jon Raso. "He would have never hosted the Muslim Brotherhood's Mohammed Morsi at his personal event, feeding into President Obama's foreign policy of weakness."
"Unfortunately, Bill Clinton has become just another one of President Obama's allies, which makes it no surprise he's coming to help Congressman Critz, who just last week affirmed his support of President Obama for a second term.  Keith Rothfus will stand up to President Obama's agenda, and fight for the right policies that will empower our job creators and bring family-sustaining jobs back to Southwestern Pennsylvania."
Clinton initially was slow to warm up to Obama after the latter defeated his wife in the 2008 Democratic primary. In recent weeks, particularly at the Democratic National Convention, Clinton has been a loud surrogate for the President.
The Rothfus campaign did not highlight one of the biggest gaps between Critz and Clinton: the issue of trade. Critz has repeatedly criticized the North American Free Trade Agreement (NAFTA), which Clinton supported and signed into law.