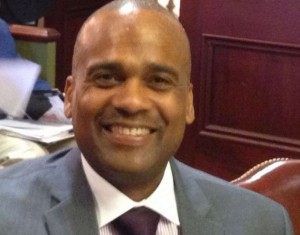 With a vote of 48 yeas to 1 nay, Timothy Reese was confirmed as the new Treasurer of the Commonwealth on Friday.
The only Senator to vote against Reese's confirmation was Mario Scavello of Pennsylvania's 40th District.
Reese will go on to finish the rest of Rob McCord's 19 month term. The former State Treasurer suddenly resigned from his post on February 12 following charges of extortion.
The new State Treasurer brings more than 20 years of experience as a successful businessman and investor. He has also launched the National Minority Angel Network, a network that focuses on investing in women, minority, and veteran-owned companies, and currently serves on the Board of Advisors for the U.S. Securities & Exchange Commission.
Governor Wolf noted that, "Tim is a proven leader with a diverse financial background."
"I am honored to have been asked by Governor Wolf to serve the citizens of the Commonwealth. I look forward to getting started right away and lending my expertise to the Treasury and the Commonwealth," said Reese.