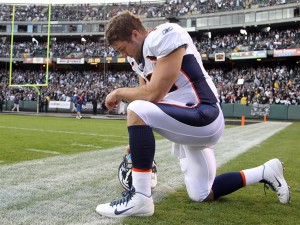 He's the most divisive man in the United States of America and he's coming to Pennsylvania.
That's right, Tim Tebow.
The collegiate star and outspoken Christian has always had a group of fervent supporters. Yet the fact that the attention the QB receives far outweighs his NFL resume has created just as many (or arguably more) detractors.
Tebow was drafted by the Denver Broncos, dumped in favor of Peyton Manning, then became a circus attraction as a member of the New York Jets.
He spent the past few years out of football until Philadelphia Eagles head coach Chip Kelly signed him.
In their first preview of a new poll of the Keystone State, Public Policy Polling revealed there is a distinct partisan divide on the Tebow signing.
Among Eagles fans, 77% of Republicans approve of the move while just 36% of Democrats are in favor.
Among Eagles fans, 77% who are Republicans but only 36% who are Democrats approve of the Tebow signing

— PublicPolicyPolling (@ppppolls) May 26, 2015
There aren't many athletes who can engender such a sharp partisan reaction but it nows appears we have one in the City of Brotherly Love. At least for now.