By Keegan Gibson, Managing Editor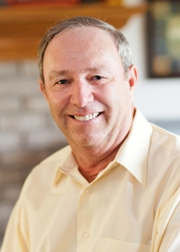 Tom Smith, the U.S. Senate hopeful who built and sold a mid-sized coal mining company, is running for for the Republican nomination. But supporters of his opponents are keen to note that the former Tea Party leader was, until recently, a registered Democrat. Furthermore, he served in 2010 as an Armstrong County Democratic Committeeman.
Smith says his prior registration was a carryover from the past, when much of western Pa's working class were Democrats. His involvement with the Armstrong Dems, he says, was part of a Tea Party effort to influence local party committees.
Party registration has been an issue in the crowed GOP primary for U.S. Senate, but so far mostly for Chester County entrepreneur Steve Welch. He switched to Democrat back in 2006, contributed $300 to Joe Sestak, and said he voted for Obama in the 2008 primary. He switched back to Republican in 2009 and says he voted for McCain in the general election. In 2010, he ran for Congress briefly, before withdrawing. Later in the cycle Welch spoke as a surrogate for Pat Toomey at a Chamber of Commerce event in the Philadelphia area.
"As the Chairman of the Indiana-Armstrong Patriots, a conservative grassroots organization, Tom encouraged members to participate in the political process to enact the conservative change he has so strongly and consistently advocated for – and Tom lead by example," said campaign manager Jim Conroy.
"Not surprisingly, Tom's conservative message was ill received by Democrat Committee members, who threw him off the committee after learning of his overwhelming support for Republican candidates like Governor Corbett and Senator Toomey."
Lois Kaneshiki is a leader of the Pennsylvania Precinct Project, a tea party-affiliated effort to affect grassroots political change (namely, an end to committee endorsements).
"We started this project 2 years ago.  Since then it has caught on.  Many others have recognized the need for this project concurrently with our effort to educate the public," she said. As for Smith, "he never seemed too interested in the Project, but he did help refer me to others in his area.  He was hard to read on the subject."
Chuck Pascal, an Armstrong Democratic Committee member, attorney and former member of Democratic State Committee, corroborated Smith's account.
"Tom Smith was elected as a Democratic committee person from Plumcreek Township in 2010 by write-in.  He attended a few committee meetings.  At those meetings, he spouted various Tea Party rhetoric, and made statements in opposition to Democratic candidates," Pascal said.
"After a few meetings, in which he had arguments with various members and leaders of the committee, he was told that the party was going to move, through our bylaws, to remove him as a committee person for supporting Republican candidates.  At that point, he resigned–or I should say, he never returned."
He said he believes Smith's campaign is deliberately spreading word of his involvement with the Armstrong Dems in an effort to increase his crossover appeal for a general election.
The issue may not be settled for Smith. Voting records show that he voted in Democratic primaries in 2006 and 2010. A campaign spokesman said he didn't vote for either Arlen Specter or Joe Sestak in 2010, and Smith doesn't recall how he voted in the 2006 primary between Casey and Chuck Pennacchio. He switched his registration in August of 2011
All that said, it's tough to paint Smith as a closet liberal. He has contributed hundreds of thousands of dollars to GOP and conservative efforts over the past several decades, PoliticsPA found in August. The figure includes broad support of established Republicans ($55,000 to Pa.'s HRCC and its Chairman Rep. Dave Reed, $24,500 to Gov. Tom Corbett, $9,200 to Sen. Pat Toomey and $5,750 to the NRSC), but also some movement conservatives ($2,000 to Toomey's 2004 bid against incumbent Senator Arlen Specter, for example).
PoliticsPA was able to find only one instance of his giving to a Democrat: a 2009 contribution of $2,400 to Rep. Jason Altmire, who in Congress has been a supporter of the coal mining industry.