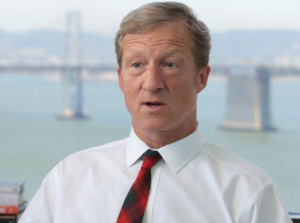 New DEP Secretary John Quigley has a big fan.
The freshly confirmed head of the Department of Environment Protection was congratulated by Tom Steyer. Steyer is a billionaire activist dedicated to fighting climate change through his organization, NextGen Climate.
"We applaud Governor Wolf and the Pennsylvania State Senate for the nomination and confirmation of John Quigley as Secretary of Pennsylvania's Department of Environmental Protection," Steyer said. "With Secretary Quigley's confirmation, Gov. Wolf adds to an exceptional team of civil servants—including Chief of Staff Katie McGinty and Secretary for Planning and Policy John Hanger—who are committed to protecting Pennsylvania's environment and standing up for hardworking families and Pennsylvania's kids."
McGinty and Hanger were both DEP Secretaries under the Rendell Administration (as well as gubernatorial candidates).
"In 2014, NextGen Climate was proud to use our resources to stand with Pennsylvania's communities and support Gov. Wolf—a leader who acknowledges climate change and is committed to taking action," Steyer continued. "We were heartened when the people of Pennsylvania elected him to office with a mandate to build a cleaner, healthier and more prosperous future for their communities. Under Gov. Wolf's leadership, we are confident that Pennsylvania will continue to take the important steps necessary to protect the state's environment, while growing its economy."
Quigley was approved by the State Senate yesterday by a 44-4 vote.